San Diego gets it ...
The West Coast port looks at the bigger picture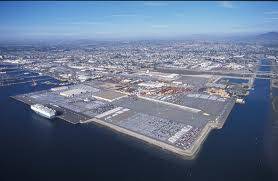 As US ports slide further down the world scale of economic efficiency, confronting rising costs and stricter regulations, executives are realizing that sole reliance on pure maritime business is a slow route to oblivion.
The largely forgotten port of San Diego is a prime example. The new head of the board of harbor commissioners, Ann Moore, has unveiled the strategy for the future, calling it "A Port for All". (Unimaginative but direct).
"The port really is an integrated port that is comprised of many partners and stakeholders. That's why integrated planning will be an important focus this year. To me, that means making decisions in context. It means looking beyond our boundaries and seeing how our activities fit in the bigger picture."
 Remember that the city and the port all kowtow to the navy and what the navy dictates, the other two obey. Knowing this, San Diego is paying due deference to its overlord but is also casting its net wider to include environmental, civic and commercial considerations (which the navy couldn't care less about).
A wildlife and nature area is to be developed along with a public park, hiking trails and rest areas. The commercial aspects are a mix of the usual combination of hotels, convention center and shopping. To those who say "So what?" to this, let it be reiterated that for most of its life the port has gone along stolidly with the theme that a port consists entirely of shipping.
The change in attitude is echoed internationally, in the form of the International Association of Ports and Harbors. IAPH president Geraldine Knatz says"The Great Recession forced many ports to focus more on having a diversified portfolio – and not just a cargo portfolio. As ports, we should look at how we can generate economic development beyond cargo jobs. How can we get the most value out of our property portfolio?
 "Beyond cargo, what kinds of economic development would produce the best return on investment for our local economy .Those questions go beyond traditional port and cargo operations, and every port should be asking them."
A port that has gone too far in the other direction is San Francisco, which gives the impression of shutting down cargo operations altogether in favor of tree-lined playgrounds and blocks of condos and apartments. Now fully immersed in the volatile world of property development, it is being warned by maritime analysts that some unpleasant experiences lie ahead.
"It will be too late when they wake up to find that cargo operations are actually vital for a port city," a maritime insider told me, "as there will be nowhere for them to build – and nobody wanting to go there."