Small Washington Ferry Struggles
Washington is a ferry intensive state. But they aren't cheap and everyone is having trouble keeping ferries running in today's economic climate.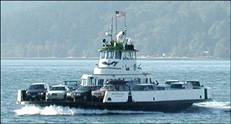 Whatcom County Public Works Ferry Division is responsible for the operation and maintenance of the Whatcom Chief, a ferry connecting Lummi Island to mainland Washington via a short run across a narrow waterway between Bellingham Bay and Lummi Bay.
The Bellingham Herald, the main local paper in the county, reported that there is no lease agreement yet to keep the ferry operating after a three-hour negotation session between the county and the Lummi Nation, a population of Native Americans that is also served by the ferry. The ferry serves Lummi Island residents, visitors, and businesses, transporting over 197,980 passengers during 2010.  
The Whatcom County representative said the county had agreed to commit millions of dollars above the proposed annual $200,000 lease payment to the tribe, to pay for traffic safety and pedestrian improvements around the Gooseberry Point car ferry dock on tribal lands. Negotiations continue on Monday.