RiverNotes: A Thinking Man's Game
Rearranging the tow is more than playing a game of Tetris. Sometimes it's like playing chess with Bobby Fischer.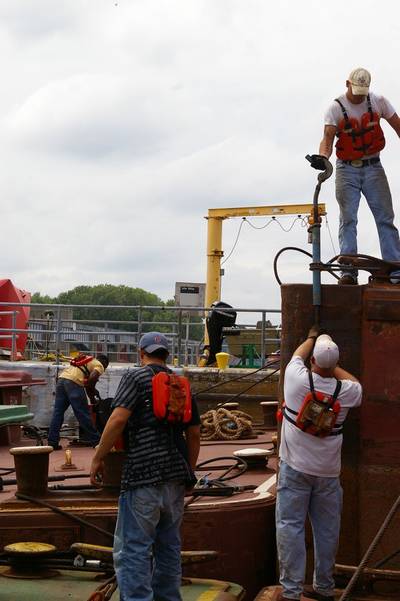 On the upper Mississippi at Lynwood, it was time for the Theresa Wood to drop off two empty barges. To rearrange the tow, the deckhands pulled apart and remade 22 lines; set the sounder and speakers at the head of the tow and ran the cords back to the boat; and remade the steering coupling, reinforcing the connection between the first and second set of barges, where the largest amount of stress is absorbed. The process took three or four hours.

The dispatcher tells the boat when and where barges need to be picked up and dropped off, but the Captain decides where those barges are placed in the tow.

Are the barges empty or full? Empty barges act as sails, pulling the boat around with the wind. Empties have to be placed as far out on tow as possible, or on the sides.

Are the barges boxes or rakes? Boxes have squared-off edges and rakes are contoured at one end to allow water to flow underneath. The Captain tries to build a tow as units with a rake at either end and boxes in between. But often there aren't enough rakes and you end up with the raw edge of a box barge sticking out and a rougher ride.

How long is the barge? Most barges are 200 feet long, but a few are 195 feet. You can only put 195-foot rakes at the head of the tow, unless you have enough of them to put them all the way across the very first row of the tow. Otherwise, the tow won't fit together.

Safe navigation is priority, so no matter what kind of chess master you may be, you still may end up needing to drop off a barge that's sitting in the very middle of your tow.