Whalebacks
An experimental design with interesting advantages, but fatal drawbacks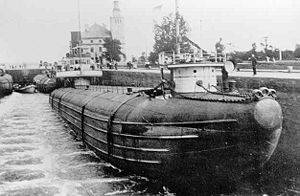 Whalebacks were vessels of a unique design built almost exclusively on the Great Lakes of North America between 1887 and 1898.
The hull continuously curved above the waterline in a semicircular fashion so that, when the vessel was fully loaded, only the rounded portion of the hull remained visible.
The sides were curved in toward the bow and stern, accentuating the whale-like appearance.
Only the navigating bridge forward and the accommodation spaces aft, both rounded to resemble turrets, rose above the main deck.
Railings were run longitudinally down the main deck to allow crew members to access the two turrets.
The concept was that the rounded hull would easily shed water, allowing for safer operation during inclement weather.
More importantly for barges (and most of the whalebacks built were barges), the hull would present minimal "sail area" and thus track better behind a tow.
The vessels fulfilled their designer's goals.
Unfortunately, there were unanticipated difficulties.
First, most ship owners were reluctant to invest in such a novel design.
Second, the hatch covers presented a problem.
They were designed to be flush mounted, having the same lines as the hull.
Unfortunately, the curved hatch covers tended to warp or get bent and dented with use, compromising the watertight seal needed for cargo spaces.
The hatches were smaller than those found on conventional ships of the same size.
As a result, loading and unloading cargo was more difficult and time-consuming.
In a business where time is money, lading delays made whalebacks increasingly unattractive.
Their low freeboard made whalebacks more difficult for other mariners to see, making them more likely to be involved in collisions.
In some collisions, the other ship sometimes rode up over the midships section of the whaleback.
The
Christopher Columbus
was the only passenger-carrying whaleback and, at 362 feet, the longest.
She was used to carry passengers from downtown Chicago to the 1893 Columbian Exposition located in the South Side.
The only whaleback still in existence is the
SS Meteor
, serving as a museum exhibit in the Port of Superior, Wisconsin.