Western Ports Get It Done
Appeals to Congress outweighed by bold thinking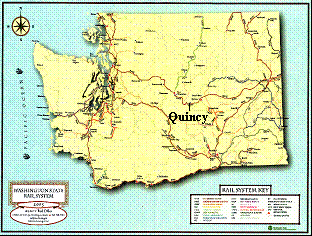 Actions speak louder than words, certainly in shipping. Ports can lobby with all their might and industry associations carve out policy frameworks, but the only way to achieve anything is to produce something tangible.
In short, the industry is only successful when it builds the future. Just ask the Port of Quincy in Washington, next to the Columbia River (and not to be confused with the harbor/seafront of the same name in Massachusetts), where an (almost) dedicated reefer rail service begins this month to the East  Coast that will largely do away with the need for trucking, reaching the East Coast in four days.
This new service comes a week or so after port bosses made earnest, impassioned pleas to Congressional committees, calling for more government spending on major ports and infrastructure. Like so many other testimonies to Congress, the effect of these lasted a couple of days and only the lobbyists will have gained – reveling in the extra PR they will generate.
Of outsize, strictly speaking Quincy is not a maritime port, but an intermodal terminal linking road and rail. But the point is that its practical efforts have brought more attention than words. Shippers, manufacturers and politicians have taken notice.
Down in Northern California, the ports of Oakland, West Sacramento and Stockton last year to set up a barge short-sea service. Ignoring the pessimistic conventional wisdom that the DOT and FMC are not interested in this sector, they went ahead with their plans. Not only did they get $30 million in TIGER grants but this week, bingo! MARAD came out with its America's Marine Highway program, to get more goods moving on water, which is a great advance on previous lukewarm pledges.
 This comes after Ray LaHood announced that $58 million will be forthcoming to help regional short-sea services.
One cautionary note needs to be added. It is somewhat disappointing that the Marine Highways money will not be used for bulk/breakbulk or heavylift – under current thinking. It is worth quoting the regulation: "Section 55605 of the Energy Act defines short sea transportation as ' carriage by vessel of cargo that is contained in intermodal cargo containers and loaded by crane on the vessel or loaded on the vessel by means of wheeled technology'. The Department of Transportation believes that the addition of bulk, break-bulk or heavy lift cargos would go beyond the scope of the authorizing legislation. "
(DOT will have a hard time convincing the industry that its smart lawyers were unable to find a way around this legal hurdle. The immediate assumption is that lobbyists for the competing types of transportation have influenced the lawmakers.)
But, at least the agency brushed aside calls for marine highways to be limited to those that can pay for themselves. "A path to profitability alone does not establish a rationale for governmental involvement in the project," and the decision should be "based on the potential to produce public benefits". If government spending on infrastructure had always been based on profit, the interstate road highways would never have been built.
Northern California and Washington have proved that the best way to get traffic and business is by providing tangible benefits.