Wesley L. Jones
The US Senator immortalized for his work on behalf of the US merchant marine and its merchant mariners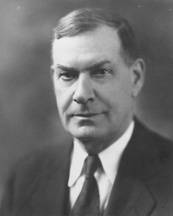 Wesley Livsey Jones (1863-1932) was born near Bethany, Illinois on October 9, 1863 and died of heart failure in Seattle, Washington on November 28, 1932.
He graduated from Southern Illinois College in 1885 and took up the study of law.
He was admitted to the bar in 1886 and practiced law for a few years in Decatur, Illinois.
In 1889, he removed himself to the new state of Washington and commenced the practice of law in Yakima.
He was elected as the United States Representative for the State of Washington in 1898 (the population of Washington at that time was so small that the state had only one representative) and served in the House of Representatives from 1899 until 1909.
In 1908, Jones did not seek re-election in the House and instead ran as the Republican candidate for the United States Senate.
He served in the Senate from 1909 until his death in 1932.
While in the Senate, he served on a number of committees, including the Committee on Fisheries and the Committee on Appropriations.
During the Sixty-Fourth and Sixty-Fifth Congresses (1915-1918), he served on the Committee on Disposition of Useless Executive Papers, a group that possibly needs reviving today.
Most importantly, though, to me and some potential readers of this maritime-related blog, he served as Chairman of the Senate Committee on Commerce from 1920 until his death.
It was at the beginning of his work in this position that he introduced and became the leading advocate for the Merchant Marine Act of 1920, which, since its enactment on June 5, 1920, has been known as the "Jones Act".
The Jones Act has two major components.
The first part is focused on support for the United States merchant marine, mostly through the use of cabotage provisions to restrict various trades (such as limiting the carriage of merchandise by water from one US port to another US port exclusively to US-flag vessels meeting certain qualifications).
The second portion of the Jones Act established various protections for US merchant mariners, allowing them to seek judicial recovery of damages for on-the-job injury and illness.
Contrary to popular belief, Senator Jones did not create these provisions out of whole cloth.
Rather, with regard to the cabotage provision, he largely consolidated a disparate mix of separate laws into one package.
The seamen's welfare provision was a reconfiguration of an earlier statute that had recently been declared unconstitutional by the US Supreme Court.
Ironically, the Jones Act no longer exists.
In a recent codification of federal laws, the provisions of the Jones Act have been separated into their various constituents.
Regardless, mariners and maritime lawyers still honor the late Senator by continuing to refer to those statutory provisions as the Jones Act.