WAITING FOR THE PROGNOSIS
WESTBOUND LOOKS SOUTHBOUND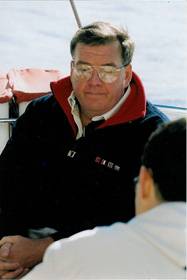 BOAT INTERNATIONAL's ("BI") Superyacht Design Symposium
www.superyachtdesignsymposium.com
is in New York City today and tomorrow. 
It will be a good opportunity to take the temperature of the Superyacht Industry in North America. 
Last year, BI's first Design Symposium was excellent; not the same old superyacht faces advertorialising as is so often the case at superyacht conferences. 
Most importantly, yacht owners not only attended last year, but they actually presented, some for almost 90 minutes about their yachts, how they designed them, how they use them, AND they stayed at the conference for its entirety including the coffee breaks and dinner .
This year, if they all show up, there are almost 20 owners
according to the attendees list
www.superyachtdesignsymposium.com/attendees2009.html
 - and those are the ones that chose to admit it. 
For the unwashed, like me, actually having the opportunity to chat with owners without have to through lawyers, Captains, brokers and other groupies is more difficult than getting on board a nuclear Submarine
.
And last year the Design Symposium seemed to be an unofficial launch of a Mines-Greener-Than-Yours movement with owners themselves calling attention to the fact that they offer a nice juicy target to the global warming police.
If this continues, regardless of whether you believe in global warming or not, it is potentially a great relief for those owners who were beginning to struggle in the traditional Mines-Bigger-Than-Yours marathon.
If the yacht status symbol is goes green and conspicuous consumption is replaced by energy consumption or rather the lack of it the world, of superyachts at least, may be turned upside down.
RINA (The Italian Classification Society, not the Royal Institute of Naval Architects)
www.
rina
.org
has sent its
Pleasure Craft Product Line Manager
Paolo Moretti
to speak. 
Not only offering "Greenhouse Gas Verification"  www.rina.org/CATEGORIE_SERVIZI/Validazione_verifica_gas_serra/Validazione_verifica_gas_serra.aspx they also offer the  
RINA GREEN PLUS certification as an extension to their
GREEN STAR notation which is meant to confirm – the job of any Class, of course - environmental excellence in shipping.  Now, GREEN PLUS is awarded only to new vessels that show
"significant investment in design solutions, onboard equipment, and operational procedures which contribute to an improvement in environmental performance beyond the minimum levels required by regulation."
Who knows, Mr Abramovich may wish his 550+ foot ECLIPSE was 400 feet shorter but flying a green star.