Vessel protection detachments
The new standard in anti-piracy protocols or a one-off practice?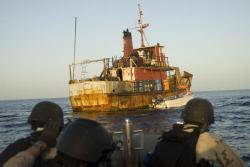 The last few months have seen some vessels operating in high-risk waters of the Gulf of Aden and the Somali Basin employing vessel protection detachments to fend off piratical attacks. The detachments consist of a small number of armed military or civilian security guards. Their purpose is to deter pirates from attacking the vessel and, if that fails, to defend the vessel from an actual piratical attack. There has been no announcement as to which ships carry vessel protection detachments, although it appears that most, if not all, US-flag commercial vessels operating in these waters have contract security guards on board. Some French and Spanish fishing vessels have commenced carrying vessel protection detachments. At least one cruise ship utilized a vessel protection detachment. The Belgian Government will make its military personnel available for such use on Belgian-flag vessels upon request and payment of costs. The rules of engagement utilized by these detachments have not been made public. It is also unclear how the potential liability for actions of these security guards has been allocated between the governments, the commercial security companies, and the ship owners/operators, or what impact these arrangements have on insurance coverage. To date, there have been only a few reported engagements between suspected pirates and embarked vessel security detachments. All have ended with the pirates breaking off the attacks. There have been no reported casualties or damage on board the embarked vessels. It is unknown whether the suspected pirates incurred any injuries or damage. Because the deployed naval units are unable to protect every legitimate vessel operating in the one million square mile high-risk waters off Somalia, we should expect to see increasing use of vessel protection detachments (either military or civilian), at least until something untoward happens. Ship owners and operators considering deployment of such detachments should opt for military personnel if available. If civilian contract security guards are to be used, the experience and training of the personnel, as well as the rules of engagement and contractual arrangements must be carefully considered. To date, there is no indication that use of vessel protection detachments has expanded to other waters, such as off West Africa or in waters near the Strait of Malacca. Only time will tell whether the benefits justify the high costs.