USS Princeton
The world's first screw-propelled warship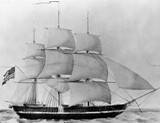 The frigate USS Princeton, launched in 1843, was named after Princeton, New Jersey, site of an American victory during the Revolutionary War.
The city was also the home of the prominent Stockton family, avid supporters of the project to build the vessel.
Construction was partly supervised by Captain Robert F. Stockton, US Navy, who then became the ship's first commanding officer.
The Princeton was designed by the Swedish emigrant John Ericsson, who later designed the USS Monitor.
While paddle-wheels had been used for ship propulsion for about 40 years, propulsion by means of a screw was still highly experimental.
Ericsson designed and built a six-bladed screw that was fourteen feet in diameter.
He also designed the coal-burning engines that drove the propeller to give the ship a maximum speed of seven knots.
Shortly after commissioning, the Princeton easily defeated the well-known side-wheeler Great Western in an informal race.
The Princeton carried two 12-inch diameter muzzle loading guns.
This is where the story takes an ironic and tragic twist.
The guns were named the Oregon and the Peacemaker.
Ericsson designed the Oregon, which was built out of wrought iron, using the "built-up construction" process of placing red-hot iron hoops around the breech end, pre-tensioning the gun and greatly increasing its strength.
Captain Stockton supervised construction of the Peacemaker.
He copied Ericsson's design, in part, but, not fully understanding the importance of the built-up construction technique, instead just made the breech thicker.
On February 28, 1844, the Princeton, with Captain Stockton in command, made a demonstration cruise down the Potomac River.
President John Tyler, former First Lady Dolly Madison, the entire Cabinet, and some 200 other guests were on board to see for themselves this most innovative vessel afloat.
During a test firing of the guns, the Peacemaker exploded.
Secretary of State Abel Upshur and Secretary of the Navy Thomas Gilmer were killed by flying shrapnel.
Also killed were Commodore Beverly Kennon, chief of the Navy's Bureau of Construction, Equipment, and Repairs, Representative David Gardiner of New York, father of Julia Gardiner, who was President Tyler's fiancée, and several others.
Captain Stockton blamed the explosion on Ericsson.
A Navy Court of Inquiry partially blamed Ericsson but came to no definitive conclusion.
Thereafter, the Princeton was considered a jinxed ship.
It was broken up in 1849 following discovery that her timbers were rotten.