USS Nautilus
A truly revolutionary vessel, now preserved for history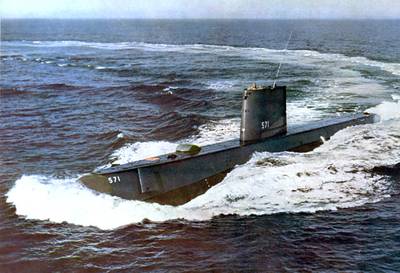 The name Nautilus has been assigned to four US Navy vessels, but easily the most famous of these was the USS Nautilus (SSN-571), the world's first operational nuclear-powered ship.
The name for this revolutionary ship was selected in part to commemorate the literary submarine of Jules Verne's classic science fiction novel "Twenty Thousand Leagues under the Sea".
The contract for construction of the submarine was awarded in 1951 to the Electric Boat Company in Groton, Connecticut, builder of numerous previous US Navy submarines.
The project was planned and supervised by Captain (later Admiral) Hyman Rickover, rightly called the "father of the nuclear navy".
The Nautilus was launched and commissioned in 1954 and officially completed in 1955.
It put to sea for the first time on January 17, 1955.
Her commanding officer, Commander Eugene Wilkinson, issued the historic message: "Underway on nuclear power."
Proceeding submerged from Long Island Sound to Puerto Rico, the Nautilus shattered the records for longest submerged cruise and highest sustained speed.
For the next two years, it regularly confounded all anti-submarine warfare tactics, which had been so successful during World War II.
In 1958, the decision was made to attempt the first-ever polar transit.
The Nautilus had to turn back on the first try on June 19 because the ice was so thick in the Chukchi Sea that there was insufficient clearance between the bottom of the ice pack and the sea floor.
She tried again in mid-summer and, on August 3, 1958, Nautilus became the first ship to reach the geographic North Pole.
The closest that the Nautilus ever came to combat was its participation in the naval quarantine of Cuba in October 1962.
Otherwise its time was largely devoted to training in submarine tactics and assisting anti-submarine forces in training to counter nuclear submarine threats.
As a somewhat experimental craft, the Nautilus exhibited various problems.
When operating at above four knots, its hull and conning tower vibrated to the extent that the sonar became ineffective.
The vessel also generated an excess amount of noise, making detection easier than it should have been.
Lessons learned from these deficiencies were incorporated into later submarines.
The Nautilus was decommissioned in 1980 and the nuclear reactor was removed.
Since 1986, it has served as a museum ship at the Naval Submarine Base, Groton.