USCGC Mackinaw (WAGB-83)
The Mighty Mac – Queen of the Lakes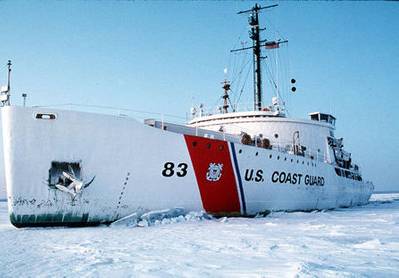 The US Coast Guard Cutter Mackinaw (WAGB-83) was the Coast Guard's icebreaker on the Great Lakes from 1944 to 2006.
It was built during the Second World War to expedite shipments of iron ore and other supplies on the Great Lakes during winter months.
While it was modeled on the earlier Wind-class icebreakers, the Mackinaw was designed with a wider beam, longer hull, and less draft so as to work in shallow waters in portions of the Great Lakes and connecting waterways.
Its wide beam (74 feet, four inches) prevented its passage through the Welland Canal, at least until the Canal was widened to 80 feet in 1959.
Subsequently, the Mackinaw may several voyages on Lake Ontario and down the St. Lawrence Seaway.
I was onboard as a cadet when it sailed to Montreal and served as part of the US exhibit at Expo 67.
The Mackinaw was the most powerful icebreaker in the world when launched.
Its six Fairbanks-Morse diesel engines powered electric generators that drove the Mackinaw's three propellers, two aft and one at the bow.
The Wind-class breakers had been designed with bow propellers, but these were eliminated when it was found that they were too weak to withstand multi-year Arctic ice.
Construction of the Mackinaw was begun at the Toledo Shipbuilding Company, but finished by the American Shipbuilding and Drydock Company after the Toledo shipyard entered bankruptcy.
The Mackinaw was capable of breaking through solid sheets of lake ice up to four feet thick and windrows in excess of 30 feet.
During its 62-year career, the Mackinaw was known as the "Queen of the Lakes".
For that entire period, it was homeported in Cheboygan, Michigan.
Immediately after it was decommissioned in 2006 – and replaced by the "new" USCGC Mackinaw (WLBB-30) – the cutter sailed to Mackinaw City, Michigan, where is continues to serve as a museum ship.