United States Light House Service
A fondly-remembered government agency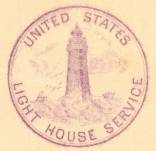 One of the first pieces of legislation adopted by the First Congress of the United States in 1789 was a measure providing for the new federal government to assume responsibility for the lighthouses previously erected by the colonial governments.
The Lighthouse Administration was established within the Treasury Department to oversee lighthouse issues, but the real work was done by means of the local Commissioners of Customs.
Little monies were appropriated for maintenance of existing lighthouses or for construction of new ones.
In 1852, Congress replaced the Lighthouse Administration, which had operated under a political patronage system, with the United States Lighthouse Board.
The Board was composed of experienced naval officers.
They divided the nation (initially only the eastern portion) into twelve districts, each with a full time inspector and engineer.
Lightkeepers were required to be able to read and write.
Buoys and fog signals came into wide use.
Fresnel lens gradually replaced old-fashioned lights.
Color schemes for buoys were standardized.
In 1886, the first electric –powered light was installed – on the new Statue of Liberty.
The Board was disestablished in 1910 and replaced with the United States Light House Service, originally called the Bureau of Light-Houses.
The Light House Service was only in existence as a separate entity for 29 years, but during that period it increased the number of aids to navigation from 11,000 to over 24,000.
At the same time, due to automation, the number of employees was reduced.
This period also saw the introduction of the radiobeacon as an aid to navigation.
Buoys with battery-powered lights replaced those powered by acetylene.
In 1939, as part of a government reorganization, the Light House Service was merged into the United States Coast Guard.
Civilian lightkeepers, as they retired, were gradually replaced by military personnel, but more were replaced by automation.
Today, only Boston Light is manned, and that is largely ceremonial.
The Coast Guard, though, adopted and has retained the concept of regional Districts, which it inherited from the Light House Service.