Unique Corus Tubes for Tupi Project
Corus Tubes manufactured the thickest UOE 18" ever made especially for deepwater pipes at the Tupi field, in the Santos Basin.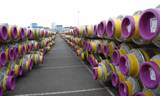 Corus Tubes has successfully manufactured 118km of 457mm x 31.75mm Grade X65 sour linepipe for the Petrobras Tupi project. This linepipe is designed to operate in Brazil's Santos Basin at a depth of 2200m, and is thickest 18" UOE pipe manufactured to date. The design criteria allowed for fatigue and corrosion concerns as well as depth/collapse issues, and this led to the demanding and previously untried thickness to diameter ratio (t/D) of 0.0695.
Some innovative steps were taken by Corus Tubes to control pipe shape, a critical element for subsequent laying of the pipe and collapse performance. Steps were also taken to manage the effects of strain on the pipes performance against the specification requirements. For the Tupi project, the specification required certification of the pipe to Hydrogen Induced Cracking (HIC) and Sulphide Stress Corrosion Cracking (SSCC) international.
Working on the coordination of internal logistics to the delivery port of Angra dos Reis for Petrobas's Tupi oil field project in Brazil's Santos Basin, Tata Steel International is playing a significant role in one of the largest contracts ever placed with Corus Tubes - 138 km or 45,000 metric tonnes of 1.0 inch and 1.25 inch thick 18 inch diameter pipe, the thickest 18 inch pipe ever produced.
This shows how demanding and challenging it is to develop the right equipment to use at the deepwater pre-salt plays and how many new technologies will need to be developed in order to safely explore and produce in the pre-salt. The investments in pipelines alone will be massive because of the distances involved.
With estimated reserves of five to eight billion barrels, the Tupi project is due to start production at the end of 2010. In operating depths of up to 2,200 metres, the field is around 290 km from the coast and will be linked by 228 km pipeline to the Mexilhao platform 145 km from the coast.
Claudio Paschoa
Photo courtesy of Corus Tubes