Two West Coast ports run afoul of bureaucrats and politicians
LA and Seattle taken to task for -- very little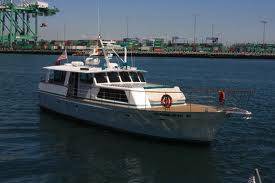 Politicians and bureaucrats are again bedeviling the work of West Coast ports. Seattle and Los Angeles are having to grapple with meddlesome officials.
Washington State's main port has been hit on the knuckles with a ruler for a couple of minor transgressions of procedure. These involve donating money to a school (which provides a nurturing ground for later employment at the port) without permission and using business credit cards for personal needs (even though the money was paid back promptly.) Port officials have had to take time to explain their conduct, putting aside other work.
Los Angeles has come under even more pressure, with Congress demanding a full accounting of about $600,000 for overhauling a port harbor craft, the Angelena II. Built in 1970 the 73-foot vessel has been used for promotions, public tours, press outings (including moi) and visiting Congress dignitaries. Its twin 350 hp Perkins (I think) diesels shove out more emissions than California allows.
The Coast Guard   ordered them replaced and a Department of Energy grant was received to replace them with a hybrid system that cuts emissions and fuel usage by 95 percent. A San Diego company, EnergyTech Marine, supplied the engine.
Every step of the process has been triple approved and the contract discussed at public meetings. The port has had to reply in laborious detail to Washington's request and provided 11 extra documents to back it all up, including correspondence with the DOE and the EPA.
As port boss Geraldine Knatz points out, the refitting is all part of the Clean Air Action Plan to make the San Pedro ports the cleanest in the world.
Of course, the real reason for getting on the port's case is the fallout from the Solyndra affair. That was the solar energy company in the San Francisco area that got tens of millions in federal grants and then went bust.
Those dynamic fellows in Washington want to bring up any and every instance of federal incompetence in handing out money for alternative power, especially if it involves gasoline.