Time to place your bets on your preferred Waterway
Suez vs. Panama gets more heated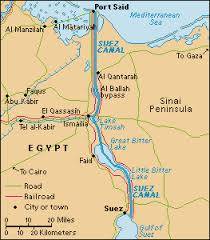 As 2014 gets into gear, the debate and rivalry over Suez and Panama is heating up. At this month's meeting of the American Association of Port Authorities in Tampa, Maersk's Dean Rodin confirmed that the P3 service will send one service through Panama and three through Suez. But, until the P3 gets the go ahead, Asia to East Coast cargo will go through Suez. According to Rodin, the expanded canal will increase berth productivity by as much as 70 percent for regional users, increase fuel efficiency by 40 percent and reduce CO2 emissions by 40 percent for each TEU/kilometer.
Rodin said the AE9 service was closed down and the TP7 service upgraded to combine both routes, to get the best balance from using the two routes, using an average vessel size of 6,500 TEU compared with 4,500 TEU on the old individual routes. Rodin said the P3 alliance will increase weekly capacity by 6 percent and deployed capacity by 4 percent, while reducing network costs by 8 percent.
Curtis Foltz of the Georgia Ports Authority said his group's forecast is that there will be a gradual shift in traffic, driven in part by the pattern of usage and location of shippers' distribution centers. In a response to those who reckon that there will be a big shift in trade, he said Suez will continue to be a big rival to Panama. Suez is definitely a route that Georgia relies on, with the number of services to Savannah increasing by 80 percent over the past five years and all 11 East Coast-Suez services calling at Savannah, according to Curtis Foltz. 
At the Panama Canal, Manzanilla port is confident. Carlos Urriola says the port is keeping to its plan to increase capacity from 2.5 million TEU to 4 million TEU, at a cost of $270 million. The new rail mounted gantries will have a lifting capacity of 40 long tons, be capable of 30 moves an hour, have a positioning accuracy of 25 millimeters and have anti-lift sensors to stop vehicles being lifted above 0.5 meters (19 inches). Feeder vessels accounted for 46 percent of all moves at the port in 2013.
The Panama Canal is promoting itself as a cheaper alternative to Suez. Oscar Bazan, vice-president of planning and business development, told the conference that the cost per container for a 12000 TEU vessel will be a couple of percent cheaper for cargo from Asia to Houston and Dallas, while being significantly cheaper than going by rail or truck from the West Coast.
The canal authority forecasts that in 2018, 12 percent of the world's container fleet capacity will be post-Panamax, 39 percent Panamax or less and 49 percent "neo-Panamax", which is the designation for 13,200 TEU ships.