The Maritime Person of the Year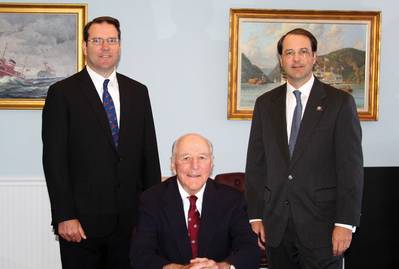 The Massachusetts Maritime Academy's annual salute to 'the person of the year' this year spotlights McAllister Towing and Transportation Co. and its leadership team.
Set for September 10, 2015, MMA's Salute to the Maritime Person of the Year – benefiting the MMA Cadet Scholarship Fund – most fittingly highlights the McAllister family, specifically Brian McAllister, Buckley McAllister and Eric McAllister. Fresh off its celebration of 150 years in business, McAllister Towing & Transportation's marine transportation group collectively operates a fleet of more than 75 tugboats, crew boats and barges in 17 locations along the U.S. East Coast from Portland, ME to San Juan, PR. In terms of the firm's impact on the maritime industry, they represent much more than that.
More than 150 Years Young
In 1864 Abraham Lincoln was president, and the U.S. was embroiled in the midst of civil war. In 1864, McAllister Towing was established in New York City. McAllister Towing has persevered, and at times, served, through nine wars, 28 presidents, at least three catastrophic stock market crashes; collapsing oil prices, generations of advances in ship technology and vessel construction and design; and an explosion in maritime regulation. The company has had its fair share of high tides and low, but through it all, 150 years later, the McAllister flag still flies high.
McAllister today is led by Captain Brian A. McAllister, a great-grandson of the founder, who serves as Chairman. The firm's President is B. Buckley McAllister, Esq., representing the fifth generation of McAllisters, and the son of Brian McAllister. They are joined in the c-suite by Chief Financial Officer Eric M. McAllister, also a member of the fifth generation and Brian A. McAllister's son. Together, they impressively represent this year's MMA Persons of the Year.
The 'can't-miss' event takes place at the renowned Lighthouse Pier 61 in New York, NY on September 10.
To Register: click HERE.
Details of the event are listed below:
The Lighthouse Pier 61
23rd Street and West Side Highway
New York, New York
Cocktails at 630pm
Dinner & Program at 730pm
Military Service Dress Blues
Civilian: Cocktail / Business Attire