The marine highway that is becoming less likely
Unexpected problems bedevil the Stockton barge project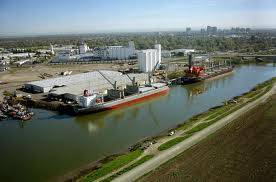 The San Francisco Bay is enduring unhappy times. Vessels hitting bridges, port executives resigning over expense scandals, strikes and now question marks over a short sea (marine highway) project.
Proposed as a commendable alternative to the 1600 trucks each day  on the freeway between the bay and Sacramento, this was designed to shuttle two barges between  Stockton, Oakland and Sacramento, with loading done by two 140-ton mobile cranes.
The real impetus came in the form of a $30 million federal TIGER grant.
That was in 2010. Then a Utah logistics ("supply chain") company, Savage, got the contract to handle the operation. The first consignments were due to be loaded sometime last year.
In October last year Savage told the port's board of commissioners, "We're very close to getting customers signed up". A few days ago Stockton announced it is severing ties with the company and port director Richard Aschieris used PR waffle to aver that everyone is jumping for joy (he used the term "excited") about "taking a leadership role".
No explanation has been given for the change or the reason for the breakup. (When anyone says they're "excited" in a situation like this, the betting is that they are feeling just the opposite.)
Critics of the scheme predicted that it would come to grief, citing high labor and fuel costs compared with the small volumes that would be carried. Now they're even surer.
Speculation about the reasons for Savage turning its back centers on three factors – Oakland's management and labor turmoil, predictable grumbling from the labor unions involving wrangling over contracts, manning levels and pay rates (which may or may not involve the ILWU) and the city of Stockton's precarious financial state. While the details of the agreement with Savage were not made public, it is thought that some financing for the project involved the city.
More serious is speculation about Sacramento's future involvement. All the public references to the project omit reference to that port and it is possible that the scheme promoters are limiting their plans.
Skeptics are lining up to proclaim the death of the whole enterprise.