The latest summary of the national shipbuilding industry
A sector that does its best to keep respectability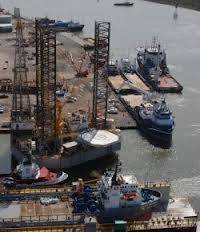 Like so many official reports, the annual stocktake on shipbuilding and repair in the US concentrates on the wrong subject. Mostly it deals with the value of the industry in each state ( California is fifth at 7.6 percent) and not enough on just where building and repair is going. [Some data is for 2011 and some for 2012, depending on the efficiency of the relevant government department providing the information.]
And it's an unenviable direction. Eight of 11 deep-draft vessels delivered in 2011 were to US government agencies (seven to the navy and one to NOAA). Of the $22 billion in revenue, 60 percent came from military contracts, 21.7 percent from commercial shipbuilding, and the remaining 18.0 percent from ship repairs. It doesn't take much deep thought to work out why Virginia is the biggest shipbuilding state.
Total revenue for the industry was $22 billion. Just to prove how much shipbuilding differs from other manufacturing, only 2 percent of costs went on marketing. "The largest expense for ship builders is purchases of raw materials and supplies used in the construction and repair of ships, including paints, steel plates, copper tubing, aluminum, and iron castings," says the report.
"These purchases account for an estimated 47.6 percent of total industry costs. Labor costs are the second largest expenditure for the industry, amounting to approximately 27.2 percent of industry costs. Depreciation, rent and utilities, marketing and other costs represent 25.2 percent of industry costs.
"Imports of finished ships, inputs, and repair services amounted to $224.7 million in 2012, down from $239.4 million in 2010. Industry imports are limited by industry regulation; in particular, the Jones Act.
A total of 1260 vessels were delivered in 2012, with inland vessels accounting for most of them, understandably, (more than 1000), while tugs and towboats were the second most at 118.
But perhaps there is a reason to get out the party hats. "…despite an increase in foreign competition, exports by U.S. shipbuilders have strengthened in recent years, rising to $539.1 million in 2012 (representing 2.7 percent of industry revenues). As a result, the U.S. shipbuilding industry has run a trade surplus in six out of the last ten years. In fact, combined over the last ten years the industry has run a trade surplus of $410 million."