The industry gets fractious over Long Beach and California
Arrogance and personal dislikes are damaging the future, says the PMSA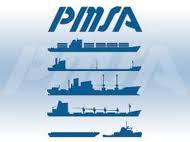 At Long Beach's annual State of the Port meeting this month, cheerleaders were talking up the growing volume of traffic and reckoning that more good news is on the way. A counter balance was given this week when John McLaurin, president of the Pacific Merchant Shipping Association, gave a different slant.
More accurately, he roasted the city's politicians for interfering. He told the city's chamber of commerce: "My members, the tenants and customers of the Port of Long Beach are tired of the drama and theatrics,"  warned that the city was being far too smug in sitting back and assuming that traffic will continue to pour into the port and deplored personal attacks on officials." People can agree to disagree, but they should not be personally attacked and smeared simply because they offer a differing opinion."
Allegations of fraud have been alleged, while there has been an ugly dispute between the city and port over a new port HQ. The mayor rejected harbor commissioners' suggestions for a new location and then fired the president of the commission, complaining that he spent too much money on business travel.
He called for a return to the type of enlightened, experienced and knowledgeable leadership that has long been the hallmark of Long Beach.
"To make real change and to protect what long has been the goose that has laid the Golden Egg for the City of Long Beach; we need leadership that has the international trade experience to lead a multi-billion dollar enterprise."
But he also said that the PMSA is worried about California being too complacent about its role in the nation's traffic. One of the association's directors told him:" "California has lost its balance, and frankly market share only remains because of deep water, not because the governing bodies welcome commerce."
The continuing problem of the length of time to get projects and programs approved is adding to the woes. "We have seen development projects in states ranging from Texas, Alabama, Florida, Georgia, the Carolinas, the Commonwealth of Virginia, Maryland and New Jersey. These projects were designed, constructed and have become operational in time frames that are much shorter than what is currently possible here given the environmental review process in California -- a process that sometimes can be measured in geologic terms."
The state steams on with the mindset that it's too big to fail. "It wasn't too long ago that the growth at the ports of Long Beach and Los Angeles was happening steadily, seemingly on its own. During those years, there was an arrogance voiced by some that cargo had to come through California, and especially these two ports. The Great Recession, coupled with port development in other parts of North America, changed the equation."
John McLaurin said that other states and ports are promoting their facilities and advantages to the association, whereas almost no California officials ever bother to visit. "Our state has done relatively little to promote our ports, instead seeming to operate with an attitude of 'We're California, cargo has to come here.' "