The bright spots also have clouds overhead
Unions and politicians are part of the cause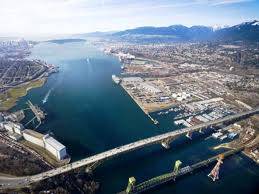 Three bright spots seem to stand out on the western seaboard, Tacoma, Prince Rupert and Metro Vancouver. (Mostly for container traffic.)
Tacoma box volumes increased 13 percent for the 11 months to the end of November, with exports up 17 percent and imports 24 percent. Breakbulk volumes were up 77 percent. To November 30,   Metro Vancouver recorded a 9 percent increase in boxes to 2.5 million TEU while grain shipments were up 4 percent to 15 million 14.6 million metric tons.
Prince Rupert is up 40 percent to about 520,000 TEU mark. Put into perspective, when the terminal opened in its first full year the volume was less than 200,000 TEU.
This all sounds just dandy, but difficulties loom. For the two Canadian ports it's US jealousy, with politicians harping on the worn theme of Canada taking advantage of the Harbor Maintenance Tax and ordering the Federal Maritime Commission to dig dirt on the northern ports.
As Metro Vancouver boss Robin Silvester puts it: "But what they did recognize is that the supply chain through Canada works very effectively into some parts of the US. So I think in some way what we have been saying has been completely vindicated. There is nothing improper happening. We're simply competing effectively."
And far from taking traffic The amount  of traffic for the US is only 10 percent of the total throughput, about 250,000 TEU (less than one month's business at Los Angeles), which makes claims of traffic stealing ludicrous. But the politicians will keep on trying.
For Tacoma, the fly in the ointment is cost increases vs. productivity, with costs winning. The Grand Alliance is the reason for the better volumes, but the terminal operator is unhappy with the rate of improvement in productivity. Diplomatic praise is heaped on the ILWU for helping to up productivity but the weakness is evident. Costs have risen 450 percent while volumes have only risen 325 percent. Docker hours were 66 percent up in October over the year before, which obviously means a huge increase in wages.
There have been changes in the composition of the workforce – more casuals. Dockers are being brought in from outlying districts, which means hefty sums in travel and accommodation allowances. Many workers are being given advanced training – a depressing admission because the union is always emphasizing training.
Nowhere is there a public mention of container moves and dwell times. Which all leads one to suspect that next year will bring depressing news.