Tacoma reckons more growth will come from oil
But beware the environmental challenges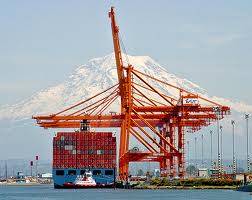 Tacoma is joining the ranks of ports that see much of their future dependent on oil and related products. Apparently Targa Sound Terminals is shelling out $80 million on a terminal to handle crude coming by rail from Montana, at a site that was originally planned as a container terminal.
Port chief executive John Wolfe is reported as saying that Tacoma is spending heavily on infrastructure to compete internationally. The site is a former Kaiser Aluminum smelter. Wolfe says the port can reach its target of 3 million TEU in 10 years with the space it already has.
Targa is part of Targa Resources Partners and acquired a site at Tacoma in 2011 on the Hylebos waterway, with a capacity of 750,000 bbl.
The port continues to be a container success story, with its volumes to the end of April up 35 percent to 617,076 TEU.Imports rose 48 percent to 226,676 TEU while exports rose 40 percent to 177,185 TEU.
Port commissioners are allowing some of this success to reflect on themselves. Salaries for some commissioners, depending on when they are appointed, will rise from $500 to $1800 a month – the first increase in 21 years.
They could well be working extremely hard to justify those salaries. (They say they spend 20 hours a week on port business). Eco-activists and lobby groups are bound to object to the oil proposal. Grays Harbor, which plans to handle oil from fracking fields in North Dakota and elsewhere, is running up against objections from community groups. In neighboring Oregon, Coos Bay is facing a possible court battle to deepen the harbor to make way for LNG exports.
A coalition of groups wants the state's court of appeals to reject the dredging permit. Allegations are being leveled at the state about secret agreements, reversals of public environmental policy and disregard for public health.
"There is a chorus of concern over how this export project unfolded behind closed doors," said Brian Pasko of the Oregon Chapter of the Sierra Club. "It's time for the Port to start leveling with the public about the impacts of the dredging and the dangers of liquefied natural gas export or other fossil fuel exports like coal."
Originally, an LNG import facility was planned.