Surprises in the rankings of top US and world ports
Long Beach is in there, but Singapore does not feature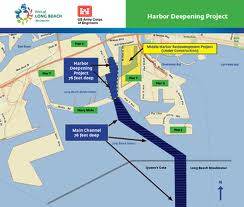 For California ports, the gloom about productivity and loss of market share has become more encouraging than it seems.
First, New York/New Jersey is having to turn away traffic because of "operational glitches". (So much so that Hapag Lloyd is telling   customers to avoid the place.)
The reaction from port users has been swift and entirely predictable – they all say they're not the cause and they have been doing the best they can, which is an occupation that is at all times greatly overcrowded when it comes to transportation in the US.
All that is known is that apparently the labor union is not the cause and that the fault lies within the equipment somewhere.
Traffic is now finding other conduits and the West Coast is reckoned to be one of the beneficiaries.
Second, there has been the Journal of Commerce's comprehensive analysis of productivity at ports around the world. Long Beach comes in at 13th with 74 moves an hour (equal to Elizabeth, New Jersey) and its Pacific terminal (Pier J) is 15th among terminals at 91 moves an hour.
All power to the JOC for undertaking the analysis. There are going to be accusations and criticism, but they had to start somewhere. (Apart from Long Beach being so high up in the table, one of the biggest surprises is the absence of Singapore from the top tier of transshipment hubs. That is bound to cause controversy).
Of course, this does not detract from the labor regime in the US. Oakland works only one shift, LA/Long Beach two – a third can be added, but at time-and-a-half.   
Another good analysis has come from Mark Sisson, of AECOM, in Cargo Business News. He focuses on the US/Canada vs. the Rest of the World and points out that it's extremely difficult to match ports against each other because conditions are so different. Import-heavy ports faced different logistics hurdles to exporters – while logistics and intermodal factors play a part. Transshipment ports don't have to deal with terminal gates and rail intricacies.
Overall, he ranks the best US dock crane productivity at 20 percent lower compared with the RoW, while the RoW is 400 percent better. He adds a very important dimension of pollution – the US is 350 percent better than the RoW
At least the West Coast does not have the worry about rates that the carriers do. The peak season will be just a speedbump in a road going downhill and there is speculation that the GRIs will be delayed a couple of weeks.
Worldwide, container traffic volumes are up by 4 percent, but capacity has risen 11 percent.