Suez Canal
The vital waterway between the Indian Ocean and the Mediterranean Sea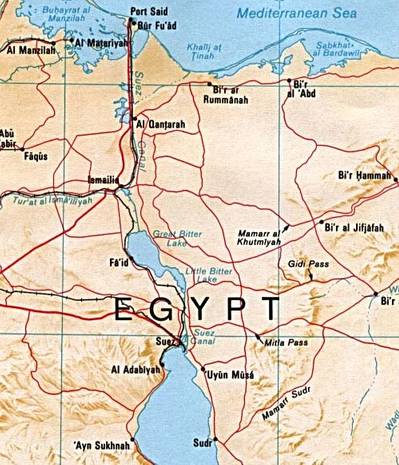 The Suez Canal is the sea-level waterway from Port Said on the Mediterranean to the city of Suez on the Red Sea.
It is owned and maintained by the Suez Canal Authority of Egypt.
The canal is 119 miles long.
There is generally a very modest current flowing from south to north, but this can vary with tidal conditions and weather.
Ships with drafts of up to 19 meters or of up to 210,000 deadweight tons may be accommodated.
Maximum air draft is 68 meters.
Maximum beam is 77.5 meters.
Efforts to increase the capacity of the waterway are ongoing.
There is only one shipping lane through most of the waterway, with two passing areas.
Ships transit the waterway in convoy, with a passage generally taking about 13 hours.
The average merchant ship is charged $250,000 for a transit.
Annually, about 21,000 vessels utilize the waterway.
These fees constitute a major portion of the income of Egypt.
For vessels traveling between Europe and Asia, use of the Suez Canal is approximately 2,800 nautical miles shorter than sailing around Cape Agulhas at the southern tip of Africa.
The waterway was opened in 1869 after a ten-year construction period by the French-led Suez Canal Company.
After Egyptian President Gamal Abdel Nasser nationalized the Canal in 1956, military forces from Great Britain and France invaded, with participation by Israel.
A United Nations-brokered peace was achieved, leaving the Egyptians in control of the Canal, but passage guaranteed to all ships.
Clearance of wrecks in the waterway took a year.
The waterway closed again with commencement of war between Egypt and Israel in 1967 and did not reopen until after the Yom Kippur War in 1973.
It was during this prolonged closure that the shipping industry (particularly the tanker owners) designed and built ships too large for the Suez Canal.
These very large crude carriers (VLCCs) provided economies of scale that have allowed their continuation long after the canal came back into operation.
The Suez Canal remains, though, a vital connection for commerce between Europe and Asia.