Subsea Equipment & Services Demand Continues Growing in Brazil
New discoveries and the development of deepwater and ultra-deepwater pre-salt increases the demand for subsea equipment and service providers, attracting various international and local companies to compete for subsea contracts for the Brazilian offshore.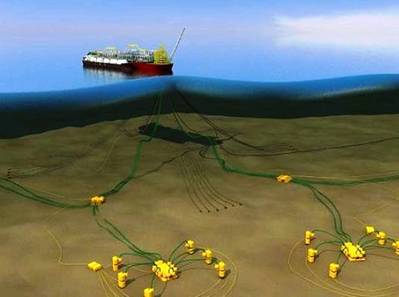 The deepwater scene is in full swing in Brazil, with major projects being developed by various operators and national operator Petrobras. All these projects require a multitude of subsea equipment and subsea services, which accounted for a steady growth in subsea equipment and service providers from around the world setting shop in Brazil.
Companies that have a history of quality equipment and services usually have an advantage when disputing these contracts, but the final product and services price is also a major issue. Petrobras for example is known to lean towards awarding contracts to the lowest bidders in their products and services tenders. However quality and safety are also paramount in their decisions.
The last few months have seen a range of subsea related contract being awarded in Brazil and this trend is expected to continue with the rising number of deepwater discoveries such as in the Sergipe-Alagoas Basin, the Libra pre-salt field at the Santos Basin among others. Along with the demand from new discoveries, there is also a rising demand from deepwater projects starting to be developed.
Compounding on that is a study ordered by Onip (National Petroleum Organization), which concludes that international companies will be awarded around $240 billion of the $400 billion that the O&G sector in Brazil will invest in pre-salt E&P along the next 10 years, representing 60% of the total investments for the period. With the high costs associated with deepwater subsea equipment, there is no doubt that a substantial portion of these investments will go to subsea equipment, such as vast amounts of custom deepwater pipelines, flowlines, risers and umbilicals. Major investments are already occurring in BOPs, manifolds, subsea separators, x-mas trees, subsea monitoring and control systems, and subsea inspection and intervention equipment.
There are some good examples of recent subsea contracts being awarded, such as Expro, which was awarded by Petrobras a $2.5 million master service agreement covering subsea electrical systems, with the contract running until June 2013.  
FMC Technologies has also signed a contract with Shell Group to supply subsea systems for the Parque das Conchas Phase II project, the contract includes 11 subsea trees rated at 10,000 psi and two production manifolds. The company will also supply an artificial lift manifold containing four subsea gas/liquid separation and boosting modules, as well as related subsea controls.
Another good example is Aker Solutions which has managed to make a hat trick by being awarded three major subsea contract to equip three major pre-salt fields, including supply subsea trees for two of Brazil's pre-salt areas. With this contract and the previous contract for subsea trees at the Tupi field, Aker Solutions has secured its presence in all the pre-salt fields presently being developed by Petrobras.
These are just a few examples of how the Brazilian subsea and deepwater marked is heated up and looking at the rate of discoveries and the number of deepwater field developments being presently undertaken and expected for the near future, it becomes a near certainty that the subsea equipment and services market in Brazil will continue its strong growth.