Statoil Tests World´s First Diverless Hot Tap
After tests the diverless hot tap proved to be interesting for deep water and shallow water operations.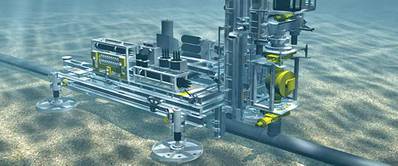 During early August 2009 the world's first diverless hot tap operation on a pressurised pipeline was performed by Statoil on the Ormen Lange field in the Norwegian Sea. This was the catalyst for the development of the world's only remote hot tapping machine.
"Connecting a pipe to an existing deepwater line would historically mean shutting down and draining the pipeline, cutting into it, adding a special tee spoolpiece and welding it or securing it in place, ensuring the seal is leak-tight. All the water in the pipe would then have to be displaced before the line could come back onstream. We looked at this for Ormen Lange and estimated this would take 3–4 weeks, with significant cost consequences."
The alternative is to carry out a hot tapping operation which connects a branch pipeline to a tee-piece in the main line without having to shut down production. This operation is very common on land and even has a proven track record of being performed in water depths of up to 180m for which divers can assist, but it has never been carried out in waters outside diver depth.
"For the remote version, however, it was necessary to both introduce a new way of controlling the processes and ensuring the design could withstand significantly greater water pressures. Although Ormen Lange lies in 860m of water, we have designed the unit with 3000m of water in mind. While the mechanical system is depth independent, it was the control system that required most attention to ensure it worked in such depths," said Lund.
The Ormen Lange operations were specified to tie in a new subsea template located at the southern part of the field, to the existing infrastructure on the seabed. The two hot taps were monitored and controlled from the surface, assisted by 100 sensors, 23 cameras and 18 subsea computers deployed on the seabed to transmit data via heavy-duty cables. Disregarding waiting on weather, the equipment was on deck-to-deck in around 48 hours.
On Ormen Lange, the tee-piece was previously installed when the pipe was laid. The operation simply involved installing a valve and hot tapping through this tee. But what would happen if a tee piece was not preinstalled? This is the subject of the next phase of development.
This technology looks to be a very positive step in cutting costs for well and pipe intervention. Although it has not been used in Brazilian subsea systems yet, I would consider it very likely that Statoil will used it in its Brazilian plays soon and I am sure Petrobras will also be very interested in the concept, as subsea interventions are some of the most costy subsea operations and usually require stopping production.
Claudio Paschoa
Photo courtesy of Statoil