Southern California ports start agitating over the Panama Canal
There are indications of a wrong emphasis and misuse of predictions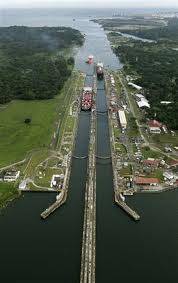 A sudden mood of desperation is enveloping corporate head honchos and port boosters in Southern California. A coalition called the Jobs 1 Alliance has formed to counteract the post-2014 Panama Canal, which is seen as a huge threat that could send LA-Long Beach reeling.
Their beef is not so much the canal itself but the incredibly costly and lengthy process in getting projects approved, along with the lawsuits and objections from residents and Green/eco-groups. One coalition member is quoted in news reports as complaining that every time there is progress on a project, a new condition or objection is shoved in the way.
Adding to the gloom and doom is a startling comment attributed to one of the three leading transportation economists in the US, Paul Bingham of Wilbur Smith. He is quoted as saying: "Worst case, there could be a 25 percent diversion from Los Angeles-Long Beach."   Having closely followed his views on the future of Southern California – all along he has said that its dominance will not suffer much – this prediction seemed out of character.
It appears that the context of what he said has been trampled underfoot or edited out. The full extent of Paul Bingham's remarks was that estimates of the damage to LA/LB range from zero to 25 percent (Drewry's assessment over the last couple of years) and that he does not believe anything like 25 percent will happen.
This should lift some of the pessimism over the canal's impact.
Nevertheless, maritimers agree that the coalition is on a sure footing over worries about the anti-development movement. But they are not so sure about some of the partners in the form of the labor unions and the ILWU in particular.
The unions have their own narrow interests to push and if these differ from those of the coalition, they will change their views in a heartbeat. The point is that the unions support only what benefits them, while the coalition wants to help the entire region (perhaps that is overstating the case as some of the members could well be out to promoter their political resumes) – and as we have seen over the past few years, the two sometimes are in direct conflict.
Inevitably, there is going to be a shakeout and change in outlook in the next few months. But the coalition would probably be better advised to spend more time countering domestic rather than external threats.