Southern California efficiency is jawed over
industry leaders tackle the topic, to little avail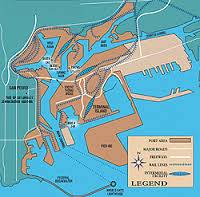 "I would not panic. Cargo is going to come here," were the words of Vic La Rosa, president and CEO of drayage company TTSI. He uttered them at a recent Town Hall seminar held by the Center for International Trade and Transportation at Cal State, Long Beach.
The setting? A debate on efficiency at Southern California ports (which some maintain is an oxymoron). Cue a metaphorical shaking of heads among industry cognoscenti, who say that sentiment is far too prevalent in California. "It's reminiscent of the complacency of 20 years ago among the manufacturing industry", says one observer.  "Then, they were saying that the US was so dominant that the world would always want our goods – and look where it's got us. The competition is extremely tough today and we are losing market share."
Mr. la Rosa was one of five panelists chewing on the topic. He did point out problems in the truck processing through terminal gates and transferring cargo, with some trips taking three hours.
Alan McCorkle, senior VP of APM Terminals, was on the mark when he said: "Shippers want consistency, reliability and service at a low cost. I we can do that we will get our cargo back." He says that carriers expect terminals to turn even mega-ships around in a maximum of eight working shifts and crane e moves will have to increase to 35 an hour from the existing 30 an hour, using up to nine cranes. (The unions have long known this but are stalling to the point where they will have no choice and it could become a do-or-die situation.)
Geoff Coppersmith, who runs a logistics company, said the PierPass fee is unpopular among his customers, while demurrage and labor practices present their own problems. He acknowledged the need for a clean environment. "But if it's not an efficient port and it's costing me too much, I have to look somewhere else," he said. "I can't blame the customers for doing that."
For the unions, Mike Podue of Local 63 (marine clerks), said the facilities at Long Beach/Los Angeles are far better than anywhere else in the country. To this, most people would say that they are not being used efficiently enough.