SNOW AND SUPERYACHT SEACHANGE WITH A SHIFTING PAIR OF DIMES
OR WAS THAT "PARADIGM"? (sorry)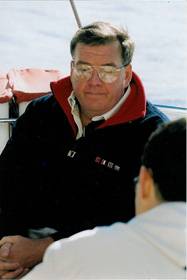 And thank heavens because it's stinking, lousy hot – almost 90 degrees with more than that in humidity; and as for that lovely Easterly breeze that always seems to blow in South Florida?  It must be still be waiting for its share of the stimulus package.
There are something like 150 yachts over 100 feet long here, but nobody seems to be smiling except the children out for a day at the boat show with their sweating Dads.
And it's surprising who didn't even seem to come this year.
"
The industry is going through a paradigm shift,
certainly in the US," as business friend and very successful California Super Yacht Designer Doug Sharpe
www.sharpdesign-na.com
told me at breakfast yesterday at his hotel Pier 66 in Fort Lauderdale, "They are coming to realize that they are competing against the world; even if your a regional designer you're working on a world stage."
Doug's business seems to be holding up nicely thank you very much. But then Sharp had the foresight to have offices in Europe as well as San Diego.
Certainly the cabbies in Fort Lauderdale say they noticed a slump this year – most tell me their annual boat show blip hasn't. And THEY CAN BE TRUSTED SOURCES TOO. 
As we wait for that paradigm to shift to go into high gear, we'll still have to look for truly dependable sources for reliable statistics on the superyacht industry.
The yacht chandlers have certainly noticed a change as well - everybody needs provisions so they might be reliable.
Once upon a time, their biggest problem was how to get a case of A&W Root Beer out to a yacht in Pago Pago tomorrow in a private jet.
Marc Burton, a chandler and also a friend who was very supportive when we set up the US Super Yacht Association
www.ussuperyacht.com
 – thus a reliable source - is owner of Claire's Marine Outfitters
www.clairesmarineoutfitters.com
. He commented,
"It's gone from, 'When can we get it??' to 'Is that the best price?' and 'Maybe we don't need so many?'"
The famed "National Party," a FLIBS standard for years, did not happen this Fiftieth Year. Lead sponsor and organiser,chandler National Marine
www.
nationalmarine
.com
 ,  like others running these types of events – and Formula One, come to think of it - relies on sponsors. 
But this year the sponsors didn't.   
And if the industry's print publishers are wearing frowns, it might be because ad revenue is down, REALLY down – as you can quite reliably measure with a ruler and your Mark I – Mod 0 eyeball.
But it might also be because of social media and revolutionary potential competion like  
www.superyachts.com
which is due to launch any day now claiming, "Overwhelming support from central managing agents and more than 600 yachts listed for sale or charter."
I had a chance to view it yesterday, courtesy of their CEO Kevin Boddington.  As a 57-year-old IT Philistine myself,
www.superyachts.com
looks awfully good to me.
Maybe the superyacht print guys should be worried;
www.superyachts.com says their humble goal is only to be, "... the definitive portal for the luxury yacht industry."
But first they have to launch....
Anyway, I'm looking forward to snow later this month in Amsterdam for METS (The Marine Equipment Trade Show
www.metstrade.com/home.asp
). I intend to wear shorts and just savour the chill.
-end-