Slow Steaming and the FMC Might Pass by as Ships in the Night
Bureaucracy could run into practicality headaches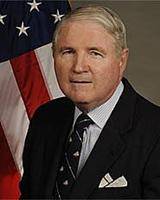 The Federal Maritime Commission is viewed with baleful suspicion as another in the myriad of government agencies that churn out documents and self-evident advice. But its update on events and vision for this year are noteworthy.
One of the issues being tackled is slow steaming.  "TSA [Transport Stabilization Agreements] member lines have indicated that they may also use their new authority [the FMC last year allowed them to discuss slow steaming] to work to increase use of alternative fuels, cold ironing, and other pollution-reducing technologies. While these practices hold promise for reducing vessels' emissions, the Commission will closely monitor slow-steaming arrangements to ensure that they do not cause unreasonable constraints now that international shipping demand has recovered."
Shipping lines are in a quandary. They don't want to be caught out if a ruling is made that dictates or limits the conditions when slow steaming is allowed. But they want to save as much money as possible, be seen to be eco-friendly and maximize efficiency.
This is particularly true of Maersk, which last year shoved in 30 slow-steaming Wartsila kits. Extra Slow Steaming has also come in (anything between 12 and 16 knots), which Alphaliner estimates is used on half the Pacific to West Coast routes, compared with 90 percent on the Far East to Europe lanes.
The FMC is going to have a complicated job if it decides to put the boot in. As Alphaliner points out, "extra-slow steaming is economically feasible as long as bunker fuel prices remain above $400/tonne, whereas first-stage slow steaming starts to be interesting at around $250/tonne."
Loud squawking will be heard from the usual suspects when fuel prices stray outside those ranges and government regulations forbid lines from making any changes.
The FMC meets on January 26, with one of the agenda items being "the impacts of slow steaming on the U.S. supply chain and environment."
Says the boss, Richard Lidinsky, ""I would welcome any comments the public would like to submit." A number of people are likely to be busy doing just that.