Sikorsky HH-52 Seaguard Helicopter
A pioneer aircraft that impacted the need for a place of refuge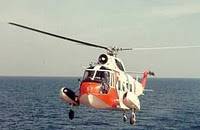 The first modern amphibious helicopter capable of regular rescue operations in the offshore marine environment was the Sikorsky HH-52A Seaguard.
This aircraft could cruise at 98 miles per hour, had a range of 474 miles, and could carry ten passengers in addition to a crew of two.
This meant that it could transit far offshore and remove a large portion of the crew of a ship in distress without waiting for the ship to get close to the coast.
While it was not realized at the time, the deployment of this helicopter starting in 1963 signaled the beginning of the end of the need for ships in distress to come into port or sheltered water in order to save the lives of the crew.
Rescue helicopters in use today are even faster, have longer range, and are capable of carrying greater payloads.
Concern for safety of the crew, the basic and original rationale for
force majeure
, has been largely eliminated in the coastal waters of many nations.
The US Coast Guard purchased and operated 99 Seaguard helicopters.
The last one was retired from USCG service in 1989.
By that time, the Seaguard was credited with saving 15,000 lives and avoiding the loss of $1.5 billion in property damage.
They were deployed from air stations, cutters, and ice breakers.
They served throughout the United States, at sea, and in the polar regions of the Arctic and Antarctic.
It watertight boat-hull fuselage and sponsons made it capable of water landings and takeoffs.
A restored Seaguard helicopter was recently unveiled at the Boeing Museum of Flight in Seattle, Washington.
The civilian variant of the Seaguard, the S-52, was also produced in large numbers and some are still in use.