Sidney Smith (1764-1840)
The most intrepid naval officer that you probably have never heard of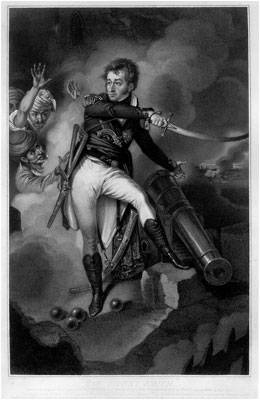 Admiral Sir William Sidney Smith, Royal Navy, was a contemporary and fierce rival of Admiral Horatio Nelson.
He first distinguished himself in the American Revolutionary War, as consequence of which he was appointed lieutenant of a 74-gun ship despite being under the required age of nineteen and finished the war having had two successive commands.
When peace broke out, he was put on half-pay and then given permission to serve in the Swedish Navy.
He led his forces in a major victory over the Russian Navy in 1790 and was knighted by the King of Sweden.
Sidney Smith (as he preferred to be called) was in Istanbul when the French Revolution commenced.
He obtained a felucca and, dressed in Arab robes and turban, sailed to Toulon to offer his services to Admiral Lord Hood who was trying to support the French Royalist forces.
It was on this occasion that Sydney Smith and Horatio Nelson first met.
The young Revolutionary colonel of artillery Napoleon Bonaparte was rapidly decimating the Royalist forces.
Admiral Hood asked Sidney Smith, who was serving as a volunteer, to destroy as many Royalist ships in the harbor as possible to keep them out of the hands of the Revolutionaries.
He succeeded in destroying about half the fleet, despite the lack of supporting forces.
In July 1795, his squadron captured and fortified a small island off the coast of Normandy which, for the next seven years, served as a forward base for the British blockade of Le Havre.
On April 19, 1796, he was using his ship's boats to cut out a French ship anchored in Le Havre.
As he was sailing out of the harbor, the wind suddenly died and Captain Sidney Smith and his prize crew were captured.
He escaped from the French prison in 1798 and returned to England.
He was dispatched to the Mediterranean and tasked with strengthening defenses in the Levant to protect against Napoleon, who was moving his army east and north out of Egypt.
When Napoleon laid siege to Acre, Sidney Smith used his guns to support the defenders and his fleet to keep them supplied.
Napoleon eventually abandoned the siege, saying of Sidney Smith: "That man made me miss my destiny."
He commanded land forces in southern Italy attempting to defeat a superior French force.
Despite a major victory, he was replaced by a British Army officer, mostly because Sidney Smith was unable to control his famed arrogance.
When the French-Spanish Army invaded Portugal, Rear Admiral Sidney Smith was able to smuggle the entire Portuguese royal family safely to Brazil.
After the Napoleonic War, Vice Admiral Sidney Smith engaged in a vigorous diplomatic effort to defeat piracy and slavery in North Africa.
He died in Paris in 1840 after suffering a stroke.
His fellow officers in the Royal Navy did not like him personally, but he was well respected for his courage.