Shipyard Contracts, Announcements Spell Relief for Some in South Louisiana
Back-to-back announcements of new building programs at shipyards in south Louisiana spelled relief for hundreds of workers after watching backlogs dry up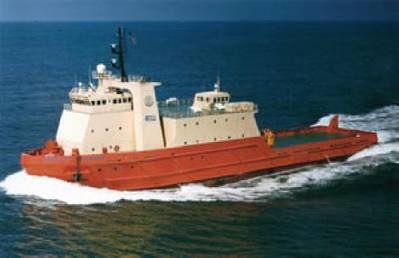 An order for eight new offshore supply vessels and a company's decision to build a new 400-foot icebreaker for Shell in Louisiana recently provided nearly as much relief to Gulf Coast shipyard workers as Garrett Hartley's 40 yard field goal Sunday that sent the New Orleans Saints to the Super Bowl in Miami.
Mathews, La.-based Gulf Offshore Logistics announced it placed an order for eight deep-water offshore supply vessels – a $250 million investment. At the same time, Galliano, La.-based Edison Chouest Offshore reported final assembly of its $150 million Arctic supply vessel for Shell would take place at its south Louisiana shipyards – keeping hundreds of workers there busy for more than two years.
Announcements such as these have been rare in the last year, as utilization rates have dropped forcing some companies to stack vessels – especially those designed for shelf or shallow water operations.
Thoma-Sea Shipbuilders in Lockport, La. received the contract from Gulf Offshore Logistics to build four 300-foot platform supply vessels and Gulf Craft shipyard in Patterson, La. will build four high-speed 220-foot OSVs. The new vessels will bring the company's fleet to 21 OSVs for deep-water operations and another 23 for shelf work. The new contracts will provide a backlog for hundreds of shipyard workers for more than three years, as first delivery on the contracts is expected in 2012.
Chouest's new vessel will be the largest the shipbuilder/operator has ever constructed and will support exploration in Alaska for Shell. Several of the company's shipyards between Larose, La. and Houma, La. will participate in the vessel's construction company officials said.
The oil and gas belt of Louisiana has routinely posted the lowest unemployment in Louisiana and even nation within the last decade as jobless rates dip to 3 percent or lower and send shipbuilders scrambling to find skilled labor to keep pace with demand. However, in these tough economic times, the recent announcements are a blessing for any workforce and shipbuilder to help bridge the gap between recession and recovery.