Scotch Cap Light
A lonely light station destroyed by a tremendous tsunami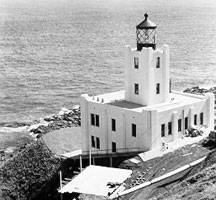 Unimak Island is at the eastern end of the Aleutian Island chain, lying near the Alaskan mainland.
On its western side is Unimak Pass, the major eastern access route between the North Pacific Ocean and the Bering Sea.
In 1903, the US Lighthouse Service built a 45-foot high wooden light tower at Scotch Cap, located at the southwest point of Unimak Island and marking the southern end of Unimak Pass.
Duty at what was then the westernmost light in North America was arduous, and generally quite lonely.
In 1909, though, the cannery supply vessel Columbia wrecked near the lighthouse.
Its 194 crewmembers and workers were assisted ashore by the lightkeepers and stayed at the light for two weeks until a rescue ship arrived.
A Japanese freighter was wrecked nearby in 1930 and its crew (albeit smaller) was also given succor.
In 1940, the US Coast Guard, with which the Lighthouse Service had merged in 1939, replaced the original wooden building with a five-story reinforced concrete structure, the base of which was situated 40 feet above sea level.
It was manned by five keepers.
A radio direction finder (RDF) station was built somewhat further up the mountainside.
At about 1:30 a.m. on April 1, 1946, a large underwater earthquake (now estimated to have had an intensity of 8.6 on the Richter scale) occurred on the floor of the North Pacific approximately 90 miles south of Unimak Island.
About twenty minutes later, a huge tsunami struck Scotch Cap.
It killed the five lightkeepers and removed the concrete structure right down to its foundation.
The personnel in the RDF station were uninjured.
The tsunami also proceeded south, striking the Hawaiian Islands four hours later.
All of the Hawaiian islands were impacted, but the big island of Hawaii suffered the most damage.
The port and city of Hilo were hit by a series of waves, up to 25 feet in height.
Most of the waterfront buildings were destroyed and 159 residents lost their lives.
The Scotch Cap light was quickly replaced with a temporary structure and a permanent facility was erected in 1950.
The light was automated in 1971.
In 1949, as a direct result of this casualty, what is now called the Pacific Tsunami Warning Center was established so as to provide as much warning as possible of impending tsunamis.
In 1999, the Coast Guard christened a new 175-foot coastal buoy tender, the USCGC Anthony Petit, in honor of the officer in charge who died at Scotch Cap Light in 1946 along with his four crewmembers.