SCI takes delivery of AHTS coinciding with its Agents Meet
SCI's Agents meet coincides with the company taking delivery of Anchor handling towing supply vessel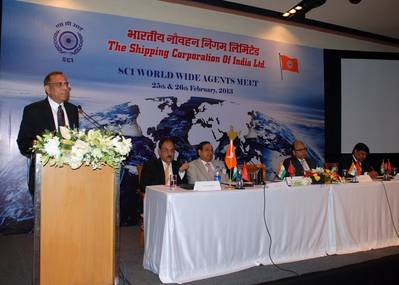 Coinciding with their Annual Worldwide Agents Meet 2013 that commenced today (February 25, 2013) drawing 129 agents from 46 countries, the Shipping Corporation of India (SCI), country's largest shipping company took delivery of a 120 tonne bollard pull capacity Anchor Handling, Towing & Supply (AHTS) vessel "m.v. SCI Urja". The vessel is the last of the two new-building 120 tonne bollard pull capacity AHTS ordered by the state-owned SCI with Cochin Shipyard Limited.
Orders for these two vessels were placed in June, 2009. With a gross tonnage of 2,067 tonnes and deadweight of 2002.68 tonnes, the vessel has been classed with IRS, equipped with Dynamic Positioning-I (DP-I) system, Reverse Osmosis Plant, Firefighting (FIFI) equipment and UKOOA (C) compliance and has been built to comply with the latest and most stringent international regulations. This AHTS will be able to offer the essential support and services for growth of the Indian Offshore industry. 
With the addition of this vessel, the company's fleet strength stands at 80 vessels of 5.91 million dwt. Acquisition of this vessel is in line with SCI's strategy of maintaining a modern and young fleet of vessels. The company has 16 vessels on order at present at various shipyards. 
At the Agents' Meet B. K. Mandal, the CMD of SCI gave insights into the performance of the company. He informed that SCI has posted, in the nine months ending 31.12.2012, a profit of USD 30 million. The top line has gone up by 13% while quarter on quarter basis top line has increased by 5%.  However, SCI experienced a loss of about USD 14 million in the quarter ending 31.12.2012.  
Mr. Mandal stated, "Whilst SCI posted profit in the offshore and liner segments, the bulk carrier and tanker segment incurred losses due to very low freight rates prevailing in the segment. Over the last 7 years the average age of fleet of SCI has come down to 10 years from about 18 years and this would help the company greatly as soon as freight market starts looking up."  
On the bulk and tanker front Capt Sunil Thapar, Director (B&T), informed the recent takeover of the port operations and management for LNG vessels of Dabhol Power where SCI is handling the water side terminal. He also stressed that apart from bulk and tankers the company had identified LNG as the fastest growing sector and was focusing on developing SCI's LNG business. "We are handling two LNG vessels under technical management and soon will be taking up one more LNG vessel," he stated.
In his speech the Director (L&PS) and IT, J N Das focused on the low freight rates and high cost which were a cause of concern. "The time has changed and we have to evolve with time and adapt to new systems and business patterns," he said. "SCI is inducting three 6500 TEU new container vessels in its fleet this year. Hence, deployment of bigger ships for SCI means bigger market share and to fill up the slots and make it viable." He observed that the India-Africa service has a lot of scope and was not fully exploited. Besides, the SCI cannot afford to be India-centric. He also stressed that agents need to reorganize and should meet the market dynamics of the company's business. Liner business is cyclical in nature and thus strategies have to be flexible to adapt to various situation.