SCI holds biggest ever Worldwide Agents' Meet
Worldwide agents of the Shipping Corporation of India deliberate on chalking out road map for accelerated growth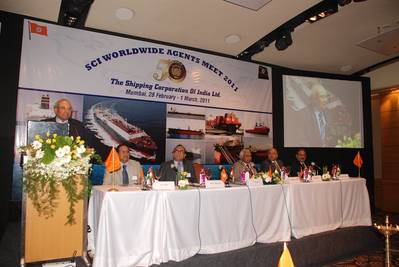 State owned, the Shipping Corporation of India (SCI), the biggest shipping company in country held its largest ever worldwide agents' meet today (28 Februry) in Mumbai with 148 agent participating. This unique event for any shipping company in India saw representatives from the Far East, Indian Subcontinent, Persian Gulf, Western Europe, Mediterranean, Black Sea, East and South Africa, Red Sea, USA and elsewhere gathered to deliberate on identifying a road map that would see an accelerated growth in the year ahead.   
The company's Chairman and Managing Director S Hajara indicated the tough journey
of the shipping fraternity from 2008 till date and how supply had outpaced the global demand. 'With liner industry even tanker industry had experienced the rough recessionary waves," he stated. SCI now celebrating its 50th glorious year has adopted several measures in order to gain the market share and maintain a sustainable presence, he informed. He also spoke about SCI's ambitious vessel acquisition plans, with over 2 Million DWT (36 vessels) on order book. Today, SCI controls 35% of Indian Tonnage.
The Director (Finance) B K Mandal describe the financial crisis that that took a heavy toll of SCI's financial performance during year due to which there was a drastic fall in the operating income, sales, PAT etc. He stressed on the need for improving the top line, bottom line and cash for the company, to ensure uniform growth of the company.
 
The SCI has on order 3 x 6500 TEUs container vessels informed Director (L&PS), J N Das. The good performance was the result of the efforts of European agents he said. He also lauded them for a successful ISES and IMED service. He desired that China market be reorganized and more focus given on acquisition of cargoes. He also spoke about the company's performance on the coastal shipping service and its entry in East Africa. Another major development too was the company's entry into the break
bulk services with its owned tonnage of two vessels Lok Pratap and Lok Prem. In this direction he reiterated the need for agents to strengthen their efforts for acquiring cargoes for these two break bulk carriers.
Having recently taken over as Director (Technical and Offshore Services), A K Gupta also took the opportunity to enlighten the agents about the SCI's acquisition plans. "With the company set to acquire 6 million DWT by end of 2011 and currently 36 vessels already on order the company will go ahead to acquire more vessels in future too," he said.
 
Capt Sunil Thapar also another director to have recently taken charge as Director (Bulk and Tanker) solicited support for the growing tanker and bulk carrier market and unveiled the deployment plans of Handymax and Supramax vessels.

The agent meet is will continue until the 1st March, 2011. It will focus on improving SCI's market share, developing existing business portfolio's, and evaluation of agency performance.