Scapa Flow
The almost impenetrable naval base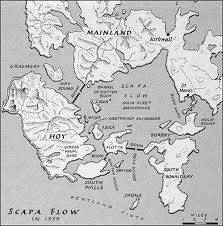 Scapa Flow served as the Royal Navy's principal naval base during the two world wars.
It is a huge natural anchorage sheltered within the Orkney Islands just north of the mainland of Scotland.
Covering 120 square miles, it has an average depth of 100 feet.
Vikings utilized the area starting more than a thousand years ago and called it Skalpafloi – bay of the long isthmus.
The Royal Navy's Grand Fleet was largely consolidated at Scapa Flow when World War I began.
Even though the anchorage was unfortified, it was considered safe due to its isolation and the few narrow access channels.
The Germans only made two attempts to directly attack Scapa Flow during the Great War.
In November 1914, U-14 attempted to enter, but was rammed by a patrolling trawler and later sank.
In October 1918, UB-116 made another attempt to enter.
By this time, defenses had been installed.
The U-boat was detected by hydrophones and sunk by mines triggered from shore.
With the end of hostilities, 74 ships of the German High Seas Fleet were interned in Scapa Flow while the Treaty of Versailles was being negotiated.
The High Seas Fleet was manned by a skeleton crew of German sailors commanded by Rear Admiral Ludwig von Reuter.
The admiral was opposed to the German vessels becoming war trophies of the Allied Powers.
On June 21, 1919, while most of the local Royal Navy vessels were on exercise, he ordered the scuttling of the High Seas Fleet, an event the Germans had been planning for months.
Before the day was over, 52 ships of the High Seas Fleet had sunk without loss of life.
Nine German sailors died, though, when the British fired on them in an attempt to prevent the scuttling.
Some consider these nine as the final casualties of the Great War.
As World War II began, the Royal Navy again based many of its warships in Scapa Flow.
The earlier defenses, though, had largely fallen into disrepair.
On October 14, 1939, the German submarine U-47 evaded the limited defensive works and entered Scapa Flow undetected.
Fortunately for the Royal Navy, the majority of the fleet was away on patrol.
The U-boat fired torpedoes into and sank the World War I era battleship HMS Royal Oak, which sank with a loss to 833 lives, including visiting Admiral H.E.C. Blagrove, commander of the Second Battle Fleet.
The British Government initially claimed to have sunk the U-boat, but admitted that it had escaped after Hitler personally awarded the Iron Cross to its commanding officer.
Defenses at Scapa Flow were quickly strengthened and it was never successfully attacked by sea again, although there were a few air raids.
The naval base at Scapa Flow was closed in 1956.
It now serves as a terminus for the British offshore oil and gas industry.