Salish Sea
A new term for an ancient and vibrant body of water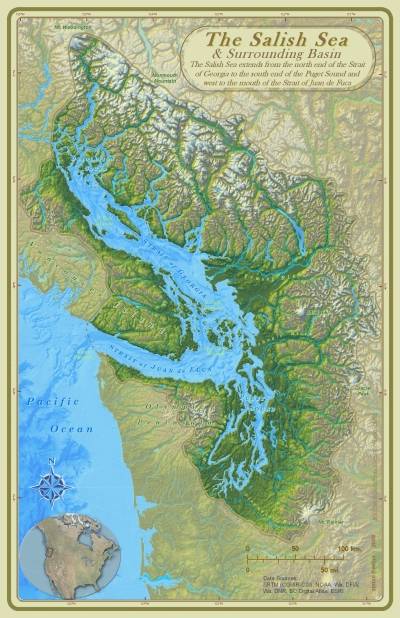 The Salish Sea extends from the southern end of Puget Sound, near Olympia, Washington, north through Puget Sound and the Strait of Georgia to Desolation Sound, and west to where the Strait of Juan de Fuca meets the Pacific Ocean.
Its name derives from the indigenous Salish Indians who inhabited most of the region prior to European and American settlement.
The name Salish Sea, though, is of recent origin.
Marine biologist Bert Webber of Bellingham, Washington is credited with first use of the term in 1988.
His goal was to raise consciousness regarding the shared ecosystem of the connected waterways that were generally viewed in isolation.
The term has now been officially recognized by the governments of the United States, Canada, the State of Washington, and the Province of British Columbia.
The Salish Sea covers approximately 7,000 square miles and includes hundreds of islands (not counting Vancouver Island).
Its drainage basin covers approximately 42,000 square miles.
The deepest point in the Salish Sea is found at Bute Inlet, British Columbia, near the north end of the Sea, where the sea floor drops to over 700 feet.
Millions of people are included within its confines, which also include rich fishing grounds, marine mammals (such as the killer whale, sea otters, sea lions, and seals), and numerous species of birds.
With the exception of the Strait of Juan de Fuca, the Salish Sea is largely protected from direct assault by the Pacific Ocean and its storms.
The Olympic Peninsula buffers Puget Sound and the Strait of Georgia is sheltered by Vancouver Island.
Overall, the Salish Sea is a vital ecosystem that is treasured by its residents.