Risk Never Takes a Vacation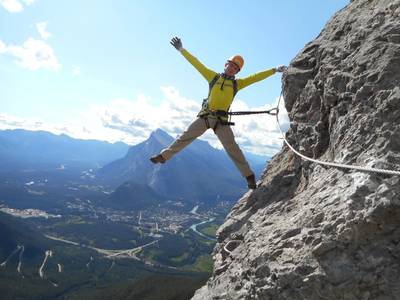 Calgary, Alberta: Just back from a nice holiday in Western Canada, I also need a few days to recover from all of the hiking at 8,000 feet in the Rocky Mountains.
The Death March at Emerald Lake – 12 gritty miles punctuated by a 3,000 climb to begin the pleasant stroll – immediately comes to mind as I reminisce about my relaxing holiday. With my son (the wrestler) and his buddy (cross country runner) setting the pace, my wife and I had to frequently put the brakes on our raggedy caravan, on the way up. Having done this very same trail about a dozen years prior, I seem to remember it being a little easier back then. And then, it started raining.
Finally at the top, and tiptoeing along the slippery, wet, narrow path of shattered shale on the trail known as the Burgess Triangle, you can look down and see a long way to the bottom, all the way to Emerald Lake. The boys got tired of the Nervous Nelly father reminding everyone to be careful, watch for bears, slow down and watch their step. That said; I was cognizant that a misstep here or a careless step to the outside there, could easily spell disaster. You see, risk never takes a vacation. During our nearly two week trip through Alberta and British Columbia, I was reminded of this metric many times.
Starting at my favorite place, the rental car counter at the Calgary International Airport, the cost of risk in Canada quickly became apparent. The counter agent went through the laundry list of options and costs one by one as I responded, "No, No & No" to each one as she droned on incessantly. Until, that is, she got to the damage waiver part. I thought about it for a second and knew that we'd likely put 750 miles or more on that SUV through some pretty tough areas.
I inquired politely, "How much?" She replied brightly, "$30 per day." ME: "I beg your pardon?" Her: "$30." I paused and thought, 'That's one heck of a P&I premium,' and then, I politely declined and off we went, dragging our bargain basement luggage behind us. And you can bet that I did the full walk-around on that vehicle to check for damage before I pulled out of the lot.
A couple of days later and finally clear of the big city; we approached the full splendor of the Canadian Rockies with the anticipation and hopes of leaving behind the mundane routine of work for a few days. But, just when you think you can put the insanity of – for example – ballast water treatment out of your mind, the Province of Alberta drags you back in. It seems, even a thousand miles from either coast, that they've got their own little invasive species dilemma.
Signs warning boaters to fully drain pontoons and bilges of water BEFORE entering Alberta are everywhere, along with billboards that forbid even the transport of firewood with bark across provincial lines, lest some obscure beetle infest the native Lodge pole Pines. It's always something. And, a return visit to the Hot Springs at Banff found that the hot springs pool that I had dipped my toes in a generation before had been closed, in part to protect an obscure species of snail. As a general statement, I guess you could say that at least the Canadians are doing something about invasive species. While on vacation, I shook my head as I saw the U.S. Coast Guard's latest shot across the BWT bow: the rejection of four appeal letters from UV-type blast water treatment system manufacturers.
Our trip, in part, was a final family vacation of sorts before my son heads off for his frosh year at college in a few weeks. With our daughter working as a lifeguard all summer and gearing up for the high school cheer season in the Fall, she stayed behind and we instead took our son's best friend to Canada. As a special treat, my wife arranged for the boys to go rock climbing near Banff at a local ski resort that has several off-season activities for tourists in hopes of drumming up some revenue in the off-season. It turned out to be the highlight of the trip for both of them.
Upon hearing about the 'activity,' I immediately expressed my reservations. My wife then led me through the online brochure and showed me how they'd be clipped in at all times, with their own guide leading them through the alpine course. The boys – young men now – were both in great physical condition (I think they could have jogged that Burgess Triangle and shaved off 90 minutes off the hike had they not been burdened with the geezers in the back of the pack). Also offered the opportunity to dangle off a rock face a couple of thousand feet above Banff, I declined. In fact, I had no intention of even watching the climbing event.
After riding a chairlift to the top and watching the guys suit up, I headed for the café to sit, drink coffee, read and clear (450+) e-mails from my iPhone and worry about what was happening on the other side of the mountain face. About four hours later (much to my relief), they finished up. Over a nice lunch, they excitedly told us all about the thrill-packed adventure. But, all of that talk couldn't possibly convey the full breadth of the experience. Images sent from the hired guide four or five hours later – witness the image that accompanies this blog – certainly did.
As for me, I was glad that I was not present when that photo was taken. And, as my wife gently chided me when I blew a gasket upon seeing it, they were fully (double) clipped in and under the supervision of the best of Canada's mountain climbing guides. To be fair, my wife does her homework – nobody plans a better trip.

The pose in the photograph is affectionately called "the star position" by the guides. Not everybody who climbs the course does it. But, my son has nothing but great memories of the adventure, and wouldn't have missed it for the world. As for me, it took nothing more than a quick trip to Canada to remind me that risk never takes a vacation: certainly not on the commercial waterfront in your world, nor in the back woods of Canada. – MarPro.
***

Joseph Keefe is the lead commentator of MaritimeProfessional.com. Additionally, he is Editor of both Maritime Professional and MarineNews print magazines. He can be reached at [email protected] or at [email protected] MaritimeProfessional.com is the largest business networking site devoted to the marine industry. Each day thousands of industry professionals around the world log on to network, connect, and communicate.