Ports are in danger of crumbling
Civil engineers spell out the problems over the next 20 years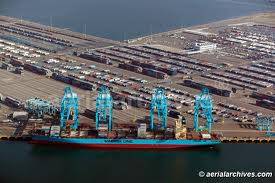 Ports are in trouble, according to the American Society of Civil Engineers, because too little is going into investment. Its latest report on infrastructure gives a bleak assessment of how the next 20 years are going to pan out.
From now until 2020 the estimated public funding need to keep ports in good shape is $18 billion, but only $7.2 billion has been budgeted, leaving a gap of $10 billion. From 2020 to 2040 the capital need is $28 billion while the gap is $17 billion. This figure excludes privately owned port facilities.
Refreshingly, the report also looks at the much neglected sector of inland waterways. By 2020, traffic is forecast to rise by 11 percent, 51 million tons, over this year's level and by 25 percent to 2040. More than half of crude oil goes on inland waterways, along with 24 percent of other fuel oils and 22 percent of basic chemicals. Costs attributable to delays in the nation's inland waterways system were $33 billion in 2010 increase to nearly $49 billion by 2020.
Combining inland waterways with ports, the funding gap is $46 billion for capital upkeep.
Says the report:" From 2012 to 2020, it is estimated that 25 of the capital investment
needs of ports will be for expansion, and 75 percent for the rehabilitation of existing assets. By 2040, the cumulative total for maintenance and rehabilitation of assets is estimated to account for 83 percent of all needs.
"Port authorities themselves are planning on spending  a combined $18 billion through 2016 on infrastructure improvements for water terminals, while their private-sector terminal partners are looking at spending $27.6 billion, for an aggregate total of nearly $46 billion. This is more than $9 billion a year in combined infrastructure investment, of which more than one-third will be spent by the port authorities themselves."
Shallow drafts are making the woes worse. In what is bound to be open to dispute, the society has worked out the extra costs of having to use smaller vessels to import and export  specific goods. The total for all goods to 2040 is $13 billion, with oil and related products the most costly at more than $4 billion.
Fascinating speculation, but it is hard to imagine that by 2040 most ports won't have deepened their drafts to at least 50 feet.
"Congestion and delays lead to goods waiting on docks and in warehouses for shipment, which in turn leads to higher transportation costs and higher-priced products on store shelves," says Andrew Herrmann, president of the soceity.