Overexcited about the Panama Canal
The US shipbuilding industry is unlikely to enjoy a bonanza from the wider canal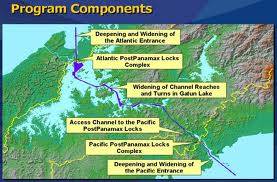 Any opportunity to boost US maritime ability and proficiency is welcome, but there should be a balance and due regard for actual conditions. A report quoting Matt Paxton, president of the Shipbuilders Council of America, is a case in point.
He was asked about the effect of the expanded Panama Canal on the US maritime industry. "A possibility is that the larger vessel traffic coming from the Panama Canal could generate a shuttle service, a short sea shipping service of these vessels offloading some of their container traffic," the International Business Times (IBT) reports him as saying.
The report says Mr. Paxton reckons that transshipment is the main source of potential, because most East Coast ports cannot handle post-Panamax vessels.  ""That is a hopeful result of the expansion of the Panama Canal, that we would see maybe some type of smaller container vessel construction built here in the U.S. to move some of this increased container traffic around ports in the U.S.," he is quoted as saying.
Most industry observers take a completely different view and say that foreign shipping lines will jump in, using Caribbean ports as transshipment hubs. The only way there could be any slight benefit to the US industry is via the Jones Act and shipments originating and ending in US ports. But this is seen as a very remote possibility because operating costs are so much higher for domestic vessels, with commerce and industry making sure they use foreign-flagged vessels.
The International Business Times seems to infer that domestic ports will become transshipment points – but this is seen as a path to financial oblivion.
Matt Paxton is one of the strongest defenders of the nation's construction industry, but he is a realist and it is strange that his views are portrayed in this way. This realism was shown in his comments on the Marad review of the industry, highlighting the overwhelming predominance of military and specialized vessels such as tugs and workboats
But the IBT is spot on when commenting in the same report on the boost to the industry from shale oil/fracking. "There are currently 111 offshore vessels on order right now for various offshore supply companies," says Mr. Paxton. The Jones Act is closely woven into the maritime involvement and perhaps the IBT has confused his remarks on that with the Panama Canal (non-) effect on the industry.