On Display: North America's Passenger Vessel and Ferry Industries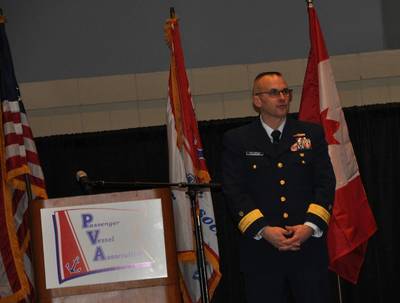 This week's PVA Annual Convention brought together an enthusiastic group of passenger vessel and ferry stakeholders. The robust turnout bodes well for this sector, and the broader OEM and service providers who keep it humming along.
Savannah, GA: With this year's PVA Annual Convention at Maritrends now in the rearview mirror, this is a good time to look back and reflect on the event – and the sector that makes it possible. Underpinned by a red hot ferry and passenger vessel building boom, I expected a well attended event and the Passenger Vessel Association did not disappoint. An increase in both exhibitors and foot traffic was evident in the exhibition hall, and numerous, well-designed technical presentations provided ample reason to make the trip to Savannah. If you didn't make it this year, well, you missed a good one.
The PVA convention is quickly becoming one of my favorite industry events, and I go to a TON of them annually. The reasons why are easy to see. First off, this group and sector tends to be enormously collaborative and PVA gives them the ideal vehicle to share best practices. Secondly, it is just about the friendliest event I go to in a given year. Just about the right size, it is big enough to justify the trip and small enough to give me the opportunity to have substantial conversations with a wide array of stakeholders.
Finally and where some trade show presentations have evolved into thinly disguised infomercials, the PVA slate is short of self-promotion and long on the transfer of technical knowledge. In fact, if I had any complaints – and I really don't – it would be that the sessions were jam-packed to the point of standing room only. All of them.
PVA always begins with the presentation of their two most important annual awards, the Roger Murphy National Marine Safety Award and the Captain Beth Elizabeth Gedney Passenger Vessel Safety Award. Heavily invested in safety, this organization places enormous emphasis in the importance of safety as a base tenet for their members. This year, the Roger Murphy National Safety Award was presented to Past PVA President is Michael Borgstrom from Wendella Sightseeing Boats. Immediately following that award, the Captain Elizabeth Gedney Passenger Vessel Safety Award was presented to the crew of the passenger vessel American Empress. Those individuals heroically mitigated a catastrophic marine engine failure that could have easily resulted in injury or death.
With the 'feel-good' part of the program nicely navigated, U.S. Coast Guard RADM John Nadeau, Assistant Commandant for Prevention Policy, gave the opening session keynote speech. A native of Maine and in his current billet since July of 2017, he also revealed that he is a rabid Patriots fan. This was met by his rapt audience with a decidedly mixed reaction, and a good laugh was had by all.
As far as this talk was concerned, RADM Nadeau said it came down to three things: Partnerships, El Faro and, importantly, 'third parties.'
Nadeau wisely led off by highlighting the now 22 year partnership between the Coast Guard and PVA. With stated goals of "improving communications and developing a working relationship," it was a good place to start. According to Nadeau, that relationship is alive and well and the agreement represents "two decades of healthy, vibrant activity." He then touched upon several areas of common concern, including but not limited to the joint effort to combat illegal charters – a constant headache for compliant PVA operators who sometimes find their members competing against undocumented operators. The ever-growing and worrisome cyber threat was also mentioned.
The Coast Guard's involvement with the investigation of the tragic El Faro sinking came next. According to Nadeau, there has never been a more transparent effort in the history of the U.S. Coast Guard. That's a mouthful, but Nadeau insists, "There has never been a more transparent investigation. Everything we have is on the internet; every hearing was broadcast live." And, he said, the Coast Guard report was made available to general public with a 30-day comment period before Final Action Memo.
That investigation produced a 200-page report with numerous (36) recommendations delivered exactly two years after the casualty. The bottom line; according to Nadeau? The tragedy was not an issue of standards and in the USCG's opinion, more regulations were not the answer. The most significant failure, he said, was the decision process (that sent the vessel into harm's way in the first place).
Listing four central causations, he also stated flatly that the Coast Guard had failed in its oversight, especially where it came to third party involvement in the equation. "We are the final element in the safety framework – it is our job to make sure the parties working on our behalf are doing their job," he said, adding quickly, "Just because we delegate to third parties doesn't mean we give away responsibility."
From that discussion, the Coast Guard's top prevention leader told PVA stakeholders that his top priority looking forward was "third party oversight;" with subchapter M in particular as a focus. As the long-awaiting so-called subM towboat rules barrel towards implementation for as many as 5,500 towing vessels, Nadeau freely admitted that the Coast Guard was pushing the program towards third parties. That practice, beginning with the well-known ACP program in 1995, has only gotten more prevalent over time. Indeed, since then, he said, "We've doubled down, time and time again. We need to get this right."
That kind of talk tends to get passenger vessel stakeholders nervous, so he immediately followed that advice by reassuring the audience that direct U.S. Coast Guard oversight of so-called sub chapter T & K passenger vessels, as well as barges, would continue. "I don't see that changing," he said.
Because ferries are 'local,' it is that much easier to have local relationships personal knowledge, explained Nadeau. Bigger vessels and offshore assets tend to go from place to place – far distances – unlike ferries and barges which tend to stay local on fixed routes.
Nadeau wrapped up his talk [before taking a barrage of questions] by saying that today's Coast Guard needs many things. Among them, the nation's fifth uniformed service needs capacity – and that translates into headcount. It also needs training and it needs expertise. More importantly, he said, "We need to better manage all of this information and hold people accountable." You got the distinct impression that he meant what he said.
There was something for everyone this past week in Savannah. This lovely southern port city provided the perfect backdrop for the serious work to be done here. As an aside: It wasn't always this way. I shipped in and out of Savannah on a tanker every two weeks for a few years in the mid-1980's, and the transformation of this beautiful, bustling town since then is nothing short of remarkable. Before departing, I made a mental note to return on a future pleasure trip.
Next year's PVA Annual Convention will take place in New Orleans, starting on January 17. It is already on my calendar. And, hey: Go Pats! – MLPro
* * *
Joseph Keefe is a 1980 (Deck) graduate of the Massachusetts Maritime Academy and lead commentator of MaritimeProfessional.com. Additionally, he is Editor of both Maritime Logistics Professional and MarineNews magazines. He can be reached at jkeefe@maritimeprofessional.com or at Keefe@marinelink.com. MaritimeProfessional.com is the largest business networking site devoted to the marine industry. Each day thousands of industry professionals around the world log on to network, connect, and communicate.