Oakland's profitable port is predicted to stay healthy
Unfortunately, the money is going to the aviation division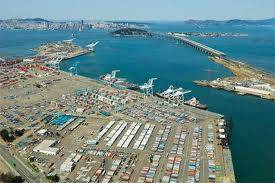 Oakland, California's third biggest container port and the fifth biggest in the country, expects operating income of $141 million in the 2011-2012 financial year, which is expected to rise to $153 million in 2013/14. Comparable operating income is forecast to be $17 million and $19 million respectively while full-time employees will rise slightly from 62 to 69.
Planners are taking no bets on ship calls, with the number staying at 2,088 over the next three years and loaded TEUs rising from 1.8 million to 1.9 million.
Capital expenditure planning is scoped out for a much longer period and will total $146 million at the end of 2015/16. Cold ironing will account for $85 million of this and the APL terminal $30 million.  
"For the first ten months of the 2010-2011, maritime revenues were approximately $9.7 million 6 percent higher than budgeted as a result of a 14 percent increase in container volume that moved through the Port in calendar year 2010", says the port.
The immediate fact that jumps out is how profitable the port is. Unfortunately, all that extra money is being sucked up by the much less profitable airport, which comes under the same administration and port commissioners.
Despite aviation earning less operating income than the maritime division, its operating expenses are more than four times as great, as is the number of employees. And for the period to 2015-2016 its capital spending is also four times as much.What this translates into is that total debt service will rise to $123 million in 2014 from $106 million this year. Finances should still be solid, with interest payments staying at 1.3 times covered.
Unlike its Southern California rivals, the port is coy about where the maritime division income is coming from. Predictably, the Middle Harbor brings in half the amount (expected to reach $77 million in 2014), but no breakdown is given.
One strategy is certain. Aviation is seen as the force of the future --- passenger fees are a gold mine and involve almost no effort. Maritime operations will be allowed to follow the path of least resistance and fend for themselves.