Oakland gets pummeled by two corporate money machines
The SSA Terminals vs. Ports America tussle could well drag on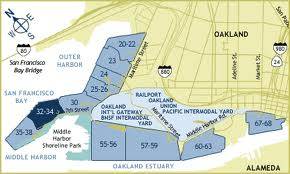 In Dubai, DP World is chuckling sardonically at Ports America's outrage.
Oakland has worked out a complicated half-resolution to the lawsuit brought by SSA Terminals that claimed unfair advantage for the operating concession awarded to Ports America (and Terminal Investments) for the Outer Harbor. The 50-year agreement is for Berths 20-26, covering just over 200 acres.
"No way," said SSA, complaining that its rival would take traffic away from the other terminals (presumably because it could offer lower berthing fees) and, even more outrageously, make a bigger profit. 
Oakland has rescued, or tried to rescue, the situation by resorting to Monopoly and trading leases for terminals that will end up with SSA leasing three linked terminals covering 350 acres.
And surprise, surprise. Ports America now wants to sue, claiming that SSA will be able to discount tariffs by $20/TEU.
For once, the ILWU hits the nail on the head. "It's all about corporate greed," an official has been quoted in the news media. Both terminal operators are owned by hedge funds or investment funds (the distinction is immaterial) devoted to making as much profit as possible.
If there is any sympathy for either of the operators, this goes to Ports America because it came up with the operating concession idea.
They care not one whit about maritime operations, efficiency and service, as they have proved. (Says one maritime veteran in San Francisco, "If they hear a term such as "stacker" they probably associate it with the Swimsuit issue of Sports Illustrated.")
This is the type of world that new Oakland boss Christopher Lytle is now having to deal with , having forsaken the local politics-driven world of Long Beach.
As for DP World, it was forced to sell US operations in the hysteria against Arab-owned companies (fueled by a former Secretary of State). The price that Highstar Capital, sorry, Ports America, paid was said to be at least 40 percent below market value. DP World had no choice because the government privately set a deadline and the closer that date came, the more the price came down.
Ports America can now spend some of that money on lawyers' fees.