Oakland faces the future
Distracted for years by trying to be a real estate operator and investor, the Number 3 port in California needs to pay attention to basic port problems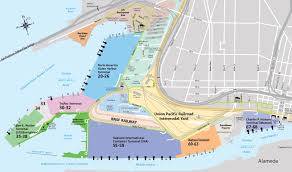 Oakland, the neglected, sad sister of California is getting a thorough going over from new Executive Director Chris Lytle. The situation right now is a case of two mega terminals good, four or more old cranes bad.
While everyone is touting the logistics prospects of the former Army Base, analytical minds are more concerned about improving what's already in place. The container yards' lighting grid is one problem. At the Outer Harbor terminals the grids have been installed separately and operate on different systems, leading to extra expense and delays in sorting out the positioning.
A whole change in management philosophy is also needed, by switching from the fixation on real estate to operating a port and getting cargo.  A California specialist in port logistics tells Maritime Professional that the port took a wrong turn by hiring consultants to assess the strategic review who were more interested in real estate and took very little notice of maritime issues. "The port owns all these public buildings and the consultants could only think of all the money rolling in. The real estate division has been losing money for years. One of the hassles is that in Oakland, the public forbids anyone to make a profit from public buildings, the rents are very high and many of them are empty."
Backing up his assertion about a real estate-centric attitude is the background of the previous Executive Director, Omar Benjamin. His whole career was real estate management and investment, with no maritime experience or training.  (He had to resign over a business expenses scandal and has gone back to real estate.) The board of harbor commissioners was similarly top heavy on real estate eagles, plus the inevitable lawyer or two.
The new boss has taken over vibrant assets in the form of two mega terminals at the Outer Harbor, which will lead to welcome economies of scale. All he has to do now is get the funds to modernize the cranes. These can only handle 17 boxes wide and five or six high. They certainly can't do eight high.
It's not just a simple matter of putting in new cranes once the money is available. The Outer Harbor has a weak wharf, which probably can't take the strain of super postPanamax cranes. Some nifty bargaining needs to be done across the table in the Public Private Partnership with the Outer Harbor operators.