Northland
An ice-strengthened vessel that saw action in two wars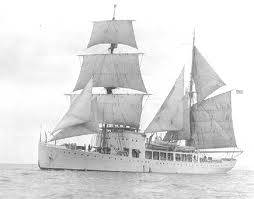 The US Coast Guard Cutter (USCGC) NORTHLAND (WPG-49) was an ice-strengthened cruising gunboat with an illustrious career.
It was built by the Newport News Shipbuilding and Drydock Corporation and launched in 1927.
Originally fitted with auxiliary sails, she was powered by two diesel engines, which drove two generators, which in turn drove an electric motor for the screw propeller.
She was designed specifically for the Bering Sea patrol, to which she was immediately assigned.
From 1928 until 1938, the Northland made annual patrols throughout coastal Alaska, performing the full panoply of federal duties, from law enforcement to mail service to coastal surveys to health care.
The cutter was taken out of service in 1938 and, in 1939, assigned to the second Byrd Antarctic Expedition.
When war erupted in Europe, she was withdrawn from the Antarctic Expedition and outfitted for special duty in Greenland.
The Northland made its first Greenland Patrol in 1940.
On its second patrol, in 1941, it encountered the German battleship Bismarck and was nearly fired on by the pursuing British forces.
Later in the year, it sighted the German-controlled Norwegian sealer Buskoe on the east coast of Greenland.
Seizure of the Buskoe was the first American naval capture of the emergency period preceding formal entry into the war by the United States.
Suspecting that the Buskoe had landed people ashore, the Northland moved up the coast and captured three Germans, with equipment and code books, setting up a weather station.
The Northland served as the flagship for the Greenland Patrol throughout World War II.
In 1947, the Northland was sold to private interests, ostensibly for scrap.
She immediately sailed for the Mediterranean Sea, where she was converted and renamed "The Jewish State".
The ship then ran the British blockade a number of times, landing refugees in Palestine.
Upon creation of the State of Israel, the ship, renamed Matzpen, became the first warship of the Israeli Navy.
She saw action against Egyptian forces that attacked Israel by sea and shelled Tira and Tyre.
After the war, it served as a training ship.
The Matzpen, nee Northland, was decommissioned and finally scrapped in 1962.
In honor of the historic ship, the Coast Guard in 1984 commissioned one of its new medium endurance cutters the USCGC Northland (WMEC-904).