New Year Island(s)
There are at least three islands named to commemorate this passage of time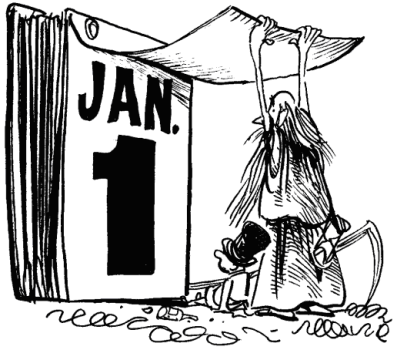 New Year Island is a small (about 40 acres) island adjacent to King Island in Bass Strait between Tasmania and the Australian mainland.
The entire island is a game reserve.
Large numbers of sea and shore birds breed on the island, which is also home to various snakes, skinks, and lizards.
Access to the island is limited and there are no permanent human settlements.
New Years Island is another small island located in the Arafura Sea off the central coast of the Northern Territory of Australia.  It is about 180 miles northeast of Darwin.  It is adjacent to the Gurig National Park and Cobourg Marine Park.  The island is rugged, with no facilities for visitors, who advised not so swim in the adjacent waters due to the prevalence of saltwater crocodiles and sea snakes. 
Año Nuevo Island (Spanish for New Years Island) is a small island off the coast of California about 20 miles north of Santa Cruz.  The entire island and the adjacent portion of the mainland is a state reserve, with access limited to approved research teams.  Until the 18th century, what is now the island was a peninsula, attached to the mainland.  The heavy surf, particularly during winter storms, has eroded (and continues to erode) the soft rock that composes the island.  It was originally named Año Nuevo Point, because it was first sighted by Spanish explorers on New Year's Day, 1603.  The US Lighthouse Service constructed a fog signal on the island in 1872 and added a lighthouse in 1890.  The light and fog signal were deactivated in 1948.  The island is a breeding ground for sea elephants and sea lions, as well as numerous birds.