New Regulations Make Certified Shipping Truck Scales Mandatory
Everything you need to know about container weighing scales required under new SOLAS regulations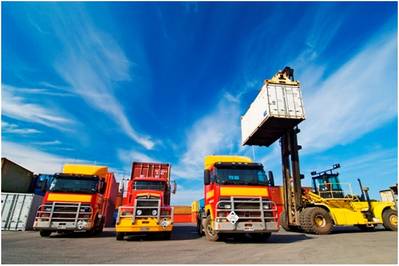 SOLAS Treaty – Container Weight Verification Requirements
The new mandatory regulations applicable to shippers were released on July 1, 2016, and require that every shipper must verify the gross weight of all containers before they are loaded on board. The weighing can also be undertaken by a third party on behalf of the shipper. This regulation is intended to improve safety and reduce accidents at sea. It is applicable globally and requires that all the cargo items should include their tare weight and the packing material to arrive at the verified weight. This convention leaves zero scope for estimation and has effects throughout the supply chain right from shippers and terminal operators to freight forwarders and vessel operators.
The Impact of SOLAS on Shippers & Logistic Companies
The SOLAS convention may sound simple but it has practical considerations for shipping companies which include the following:
The weight of every container should be determined before it is loaded
The container can be weighed after packaging or the cargo should include all the contents in the tare weight
It is the responsibility of the shipper to weigh every single container of the consignment using a calibrated weighing equipment
The weight verification needs to comply with the SOLAS requirement and must be duly signed by the representative of the shipping company stating that the weight has been accurately verified
If the weight verification has not been signed, the container needs to be weighed at the port
A packed container that is weighed at the port is to be used for stow planning
All vessel stows are required to use verified weights for all the containers that are loaded aboard
Best Shipping Practices to Avoid Errors
All the weighing equipment used by the shipper or the third party service provider must be certified and calibrated whether it is a portable truck scale or rail weighing scale.
Hiring a third-party logistics company that has the expertise needed to avoid re-weighs and re-classes while ensuring compliance with National Motor Freight Classifications
Using on-board truck scales can help shippers avoid data entry errors and prevent overloading. Truck scales also offer added protection against accidental damages resulting from external forces.
Auditing freight bills of lading can help in ensuring that there are no misclassifications even when even at a much higher rate
Weighing Equipment Options
Shippers must invest in certified and calibrated equipment for accurate weighing and verification of shipping containers. Weighing equipment can mean anything from weighbridge truck scales and rail weighing scales to portable truck scales and weigh-in-motion truck scales depending on the needs of your business. Each type is capable of determining the gross weight of packaged containers and cargo items accurately. There are various suppliers on the market to help you find weighing equipment that suits your business needs and meets the requirements of SOLAS. Let's take a look at the characteristics, applications, types and benefits of shipping container weighing scales:
Truck Scales
Truck scales are heavy-duty and highly dependable for a wide range of applications. From farming and mining to shipping and logistics, truck scales are suitable for virtually every application. Made from aluminium for carrying heavy loads and shipping containers, truck scales are light in weight, easy to move and can be seamlessly integrated with software solutions for instant and accurate weighing.
Weigh-In-Motion Truck Scales
These advanced truck scales are fully-portable, lightweight and engineered to work efficiently in different conditions. They are cost-effective, easy to use, exceptionally durable, robust and completely reliable when it comes to weighing accuracy. Ideal for use in congested shipping ports, truck scales make the weighing process easy and efficient by accurately recording the weight readings for every individual container while ensuring compliance with weight regulations.
Weighbridge Truck Scales
The most dependable option for high-volume payload applications, weighbridge truck scales are designed to provide precise weight metrics consistently. Custom-designed for durability and dependability, weighbridge scales are a preferred solution for the rugged operational demands of shipping ports. Delivering superior weighing accuracy time and again, weighbridge truck scales support a wide range of peripherals including large scale displays, modems, printers and traffic lights.
Portable Truck Scales
A convenient and efficient solution for various weighing applications, portable truck scales are made from heavy-duty aluminum and steel. Designed with advanced features, these versatile scales facilitate seamless operation needed to manage heavy-duty shipping operations. Available in different makes and models, portable truck scales can be easily integrated with printers and weight study software for easy access to vital data.
On-Board Truck Scales
Built to offer ultimate accuracy and throughput, on-board truck scales and loaders can instantly record data and print it in real-time for efficient payload management. These scales have a simple operating mechanism and provide clear weight readings consistently. They can also be integrated with payload management software for the efficient management of inventories.
Wheel Axle Weighers
Highly-functional and feature-rich, these scales ensure seamless operations with their lightweight and fully-flexible axle systems. These scales are high-capacity, robust, easy to manage and come with removable ramps that make the set-up fast and easy. These scales can be integrated with a weighing terminal that has an operator interface which allows instant printing of tickets. This keeps your data organized and accessible for users in the field.
Rail Weighing Scales
Rail weighing scales are designed for effortless integration in different applications. They ensure optimal efficiency and dependable accuracy even with high-volume loads. These scales are easy to carry and can be installed in minutes. Specifically engineered to identify overloads, these scales make an efficient solution that delivers accurate results for shipping containers that are required to meet the regulations of International Maritime Organization.
As shippers need to verify each and every container to avoid violation, the demand for shipping container weighing scales gets critical. A complete line of weighing solutions with different specifications and features is now available on the market for accurate weighing of containers before shipment. All these systems are easy to install and provide instant results for all types of containers that you are shipping. Installing an advanced shipping container weighing system helps ensure safety and compliance with the established policies and procedures.
Consult your chosen supplier today to get a complete understanding of suitable methods and appropriate scales that meet SOLAS regulations.
Truck scales, weigh-in-motion truck scales, weighbridge truck scales, portable truck scales, on-board truck scales, rail weighing scales make for the
best shipping practices
.
The Author
Kevin Hill heads up the marketing efforts and provides technical expertise to the sales and service teams at Quality Scales Unlimited in Byron, Calif. He enjoys everything mechanical and electronic, computers, the internet and spending time with family.