New Maintenance Rig for the Campos Basin - More Urgently Needed
The importance of increasing the number of maintenance rigs in decreasing accident risks on older production rigs should not be underestimated, and Petrobras will need to speed up their construction, as there is no shortage of old rigs out there.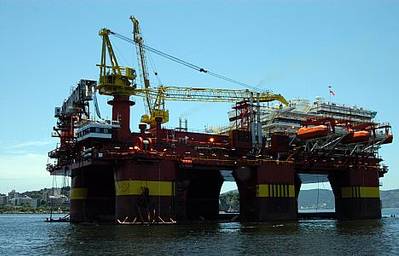 Petrobras is finally increasing its investments on Maintenance and Security Units "Unidades de Manutenção e Segurança" (UMS). The new unit UMS Cidade de Arraial do Cabo, will be supplying logistics support for production rigs at the Campos Basin, its main function will be to increase safety on the rigs through maintenance and renovation in order to increase the life expectancy of these rigs. Some of the older production rigs at the Campos Basin are plagued by equipment fatigue, rust and small leaks and seepages that if not checked could lead to serious accidents and spills. Last year Petrobras had to deal with major oil worker strikes on many of these old production rigs, due to lack of sufficient maintenance. At the time the oil workers union divulged some alarming pictures of rusted decks, stairways, stanchions and pipes that appeared to be serious safety hazards. The local operator downplayed the dangers and insisted that they were keeping to their maintenance schedules.
The new UMS rig is equipped with the latest technology, including a last generation DP system, which allows it to connect with any type of rig, fixed or floating, even in foul weather.
The UMS is 109 meters long and 36 meters wide, and works as a floating repair shipyard. It contains mechanical and electrical workshops, paint shops, welding and weld inspection areas along with a berthing area with adjoining cafeteria for 350 workers and crew. The first production rig to be visited will be PCH-1 located over the Cherne field. The UMS is scheduled to start operations at the end of February.
As there are many old production rigs in operation, and this new rig will be only the second operational UMS. Petrobras will have to increase its investment in UMS rigs in order to keep maintenance up to date on older rigs up and down the coast, as it is hardly the case that all the older rigs are found in the Campos Basin. The truth of the matter is that there are old production rigs up and down the coast, from the south all the way up to the far north of the Brazilian coast and all will need to have their maintenance and safety issues addressed as quickly as possible in order to avoid catastrophic accidents, such as gas leaks leading to explosions and major oil spills caused by ruptured flow pipes, not to mention production stoppages due to faulty equipment, such as pumps and generators.