MS Achille Lauro
Cruise ship remembered for 1985 hijacking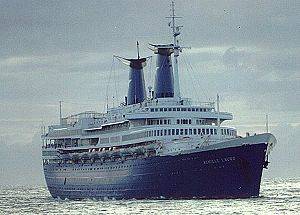 The passenger ship that will forever be known as the Achille Lauro was jinxed throughout its long period of service.
It was ordered by Rotterdamsche Lloyd in 1938.
Construction was interrupted by World War II and the ship was finally launched in 1946.
It was named Willem Ruys, after the grandson of the company's founder, who was taken hostage by the Germans and shot during the war.
The ship was intended for the Dutch East Indies route, but passengers were few after the Dutch colony became independent Indonesia in 1950.
In the Red Sea on January 6, 1953, while headed back to the Netherlands, it encountered its sistership Oranje, bound for the Orient.
Tradition called for the two ships to pass close aboard for the entertainment of the passengers.
A miscommunication, combined with a minor steering casualty, resulted in a collision.
The Oranje was badly damaged, but both vessels continued on their voyages.
After repairs, the Willem Ruys was transferred to the North Atlantic route.
After a major refitting, the ship was placed in the around-the-world cruise trade in 1959.
Passenger demand could not compensate for costs and the ship was laid up in 1964.
She was sold to Flotta Lauro Line and renamed the Achille Lauro.
She suffered an onboard explosion during refitting, but again entered service in 1965.
The Achille Lauro suffered a disastrous fire in 1972, a collision in 1975, and another fire in 1981.
Lauro Lines went bankrupt in 1982 and possession of the ship was transferred to the Chandris Line in early 1985, with plans calling for it to make cruises around the Mediterranean Sea.
On October 7, while transiting between Alexandria and Port Said, the Achille Lauro was taken over by four members of the Palestine Liberation Front (PLF).
The terrorists demanded that Israel release 50 Palestinian prisoners.
When the Israeli Government refused, the terrorists killed Leon Klinghoffer, a disabled Jewish-American passenger, and threw him and his wheelchair overboard.
The terrorists disembarked in Egypt for a flight to Tunisia.
The flight was intercepted by US Navy fighter jets and forced to land in Italy.
Italian authorities arrested the four terrorists, but allowed the ring-leader Abu Abbas, to escape.
Following this tragic incident, the Achille Lauro returned to service.
In 1987, ownership was transferred to the Mediterranean Shipping Company (MSC).
On November 30, 1994, while en route to South Africa, the ship caught fire off the coast of Somalia.
When the fire could not be extinguished, it was abandoned, with no loss of life.
The Achille Lauro sank on December 2, 1994.