Maritime museum brings small cheer to New Year
A Plymouth man passionate about the sea opens his shed museum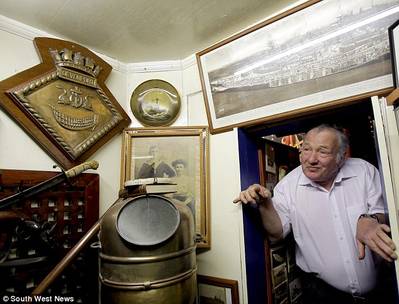 As we stand in the last day of 2009 and look forward to a better, brighter 2010, let's share a good news story from the maritime world. Having posted about all manner of dramatic, negative stories ranging from pirates to drugs hauls to the huge impact of the tiny barnacle, a little light relief in the last post of the year has got to be a good thing. Admittedly, it's a very small good news story as it's a very small museum, the smallest in Britain, in fact, but it's a good news story none the less. 

For Robert Carter, 65 from Plymouth, the maritime industry represents years of exciting history, with his love of the sea evident in his garden shed. And not just any old garden shed. Mr Carter has turned his 12ft by 6ft wooden shed in to the country's smallest maritime museum and packed it full of hundreds of artefacts from the UK's maritime history. 

Mr Carter explained, "It must be the smallest museum, if there was a smaller one I would know about it, I'm sure. Anyone can come and have a look around if they're interested. I get a few hundred or so people visit every year just through word of mouth."

The visitors are treated to a perfectly-curated tour of the small-but-perfectly-formed shed, taking in such items as a powder keg and a sailor's hat from the Battle of Trafalgar, a silver admiral's whistle dated 1820 and various historic uniforms from captains, lieutenants and doctors. 

Although Mr Carter has been offered a considerable amount of money for his impressive collection, his passion for maritime history and the importance of the collection helped him hold on instead of cashing in. 

He explained, "I couldn't go through with it. My grandfather started the collection and I've carried it on. You can't put a value on these things because to me they're priceless. It's all about the history behind the pieces. If they could speak to you, just imagine what they'd say. It would be some of the greatest stories ever told!"

He's not wrong there. It makes you want to go and visit Mr Carter and his maritime museum in a shed. Just don't all go at once.